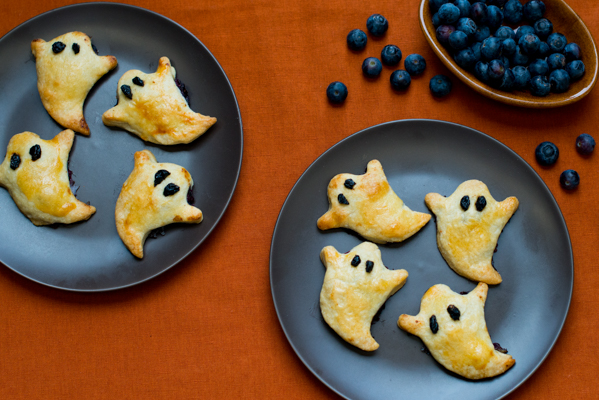 Halloween is a great time to showcase an array of fun (and yummy) baked recipes from haunted house cookies, to spiderweb brownies to scary Blueberry Cream Cheese Ghost Hand Pies. It's also a festive time to make treats for parties, after-school events or to just enjoy. Forget buying store-bought treats when you can pop these scary treats into the KitchenAid® 12" Convection Bake Countertop Oven and have ooey-gooey, sweet, delicious perfection in just 10 minutes!
Using our KitchenAid® Convection Bake Countertop Oven, we made the dough ahead of time and then had a fun-filled time of cutting out the "ghosts," and filling the pies with the delicious blueberry cream cheese filling.
Skip the store-bought Halloween treats and make your own instead. These hand pies can be pulled from the oven after only 10 minutes and served right to your guests.
The KitchenAid® Convection Bake Countertop Oven not only has a fast baking time, producing circulating heat for evenly baked goods, but it can also easily fit two 12-inch pizzas, broil, toast and keep warm. It's the perfect small appliance because it bakes efficiently while keeping your large oven free.
Begin by making the dough using a KitchenAid® Food Processor, then refrigerate the two rounds for 30 minutes.
Preheat the KitchenAid® Countertop Oven to 400°F.
Whip up the creamy blueberry topping with fresh basil and set aside.
Roll out the dough cutting 2 shapes per pie. Create your own "ghost" cut-out by drawing on parchment paper or using a favorite Halloween cookie cutter.
Add the blueberry mixture to the center of each ghost.
Lay another ghost cut-out on top. Crimp edges to seal.
Lightly brush edges of circles with egg white. Cut a small vent in each pie. Place 2 "eyes," using currants or blueberries for ghost eyes. Repeat the process to make about 8 pies.
Place 3 pies on parchment paper in the oven for 10 minutes. Watch the little ghosts turn a golden brown—the perfect hand pie!
Not only does the KitchenAid® Convection Bake Countertop Oven deliver consistent heating up to 450°F, the warming function is ideal for reheating items such as a full plate of leftovers. The Convection Bake Countertop Oven also includes a 60-minute timer that allows for longer cooking times and a toast function with adjustable control and timer to allow for individual browning preferences.
Enjoy creating a "hand pie" party with your guests and celebrate the season with Halloween Ghost Pies!
Blueberry Cream Cheese Ghost Hand Pies
Makes 8 servings
INGREDIENTS
2 cups all-purpose flour
1 cup (2 sticks) unsalted butter, cold and cut into small chunks
1/2 teaspoon salt
2 tablespoons sugar
5-7 tablespoons water
1/4 cup soft cream cheese
1/4 cup heavy cream
1 egg
1/4 cup brown sugar
1/4 cup all-purpose flour
1/2 teaspoon salt
1 tablespoon finely chopped fresh basil
2 cups fresh blueberries
1 egg (for egg wash)
1 tablespoons currants or dried blueberries (for ghost's eyes)
DIRECTIONS
In a KitchenAid® Food Processor pulse flour, butter, salt and sugar until you have a crumbly mixture, about the size of peas. Add water and pulse 5-7 more times or until dough starts to come together. Turn out onto a floured surface and shape into 2 round discs. Cover with plastic wrap and refrigerate for up to 1 hour.
To make the filling, mix the cream cheese, heavy cream, egg, sugar, flour, salt and basil together in a bowl. Add the blueberries and mix to desired texture.
Preheat KitchenAid® Convection Bake Countertop Oven to 400°F. Roll out dough to 1/4-inch thick and, using a ghost-shaped cookie cutter (or your own cut-out), cut out the dough for individual pies.
Layer each ghost with the blueberry mixture, only adding it to the center. Lay another ghost cut-out on top. Crimp edges to seal. Lightly brush edges of circles with egg white. Repeat with remaining dough cut-outs and filling. Cut a small vent in each pie and bake until golden, 10 minutes, rotating sheets halfway through. Cool completely on wire racks before serving.
Print
For more Food Processor recipes, click here for our eRecipe book.
*The Contributor of this post has been compensated by KitchenAid for this post, but this post represents the Contributor's own opinion.*