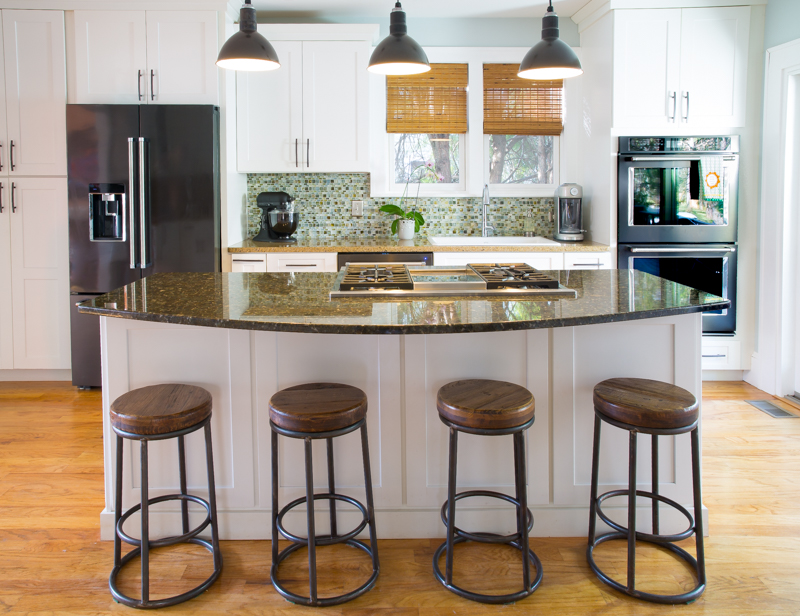 Several years ago we gutted the kitchen in our 90-year-old house and started from scratch. It was a big undertaking, yet with the help of a team of talented craftsmen, we were able to finish a complete kitchen makeover in just under six weeks.
We installed stunning KitchenAid Appliances in our new kitchen. Not only do they look utterly amazing, they are extremely well made, and offer so many useful features. We went with clean white cabinetry and stainless steel appliances for a timeless upscale look.
Our KitchenAid Appliances have made my time in the kitchen so enjoyable over the last few years. From the quietest dishwasher I've ever owned, to the under-counter microwave oven that doubles as a convection oven… I don't know what I'd do without them.
However, the moment I saw the new KitchenAid® Black Stainless Appliances, I started thinking about another kitchen makeover.
This spring we were able to swap our classic stainless steel appliances for shiny new Black Stainless Appliances. They offer the same KitchenAid innovation and peace of mind, yet make such a bold statement in our home. Look at how the black stainless pops against our white cabinetry!
After much consideration, we went with the:
—KitchenAid® Counter-Depth French Door Refrigerator
—KitchenAid® Double Wall Oven
—KitchenAid® Dishwasher
—KitchenAid® Microwave Oven
As for the new look, I love the contrast between the light handles and the black stainless surfaces. They are the prettiest appliances I've ever owned, even on the inside.
As for functionality, you would not believe all the features the Black Stainless Appliances offer!
My Counter-Depth French Door Refrigerator has the same measurements as my last Refrigerator, yet it makes much better use of the space on the inside. In both the top and bottom, I can fit a lot more food. The French doors make it easy to find and remove ingredients without having to dig around.
The PrintShield™ finish resists fingerprints, so my refrigerator doors always look clean. Not to mention, the Preserva® Food Care System keeps my veggies as fresh as possible. I feel like I own the Bentley of refrigerators!
The Double Wall Oven offers extremely even baking and roasting with its Even-Heat™ True Convection technology.
From the top rack to the bottom rack, every dish comes out of the oven as it should. The EasyConvect™ option makes it simple to convert classic conventionally-baked recipes to crispy golden convection perfection!
My favorite new feature on the Dishwasher is the pop-up bottle wash nozzles. You can finally get baby bottles, water bottles, and narrow vases clean without using an old-fashioned baby bottle brush.
The Microwave Oven might be the most versatile appliance of all! It offers many useful preset microwave cooking options, converts baking temperatures to convection, and can broil, crisp, and steam… All with the press of a button.
There are so many new features that I couldn't possibly share them all. Make sure to check out these appliances individually to get a better understanding of all they can do!
And when it's time for your kitchen renovation… Go Black Stainless!
*The Contributor of this post has been compensated by KitchenAid for this post, but this post represents the Contributor's own opinion.*