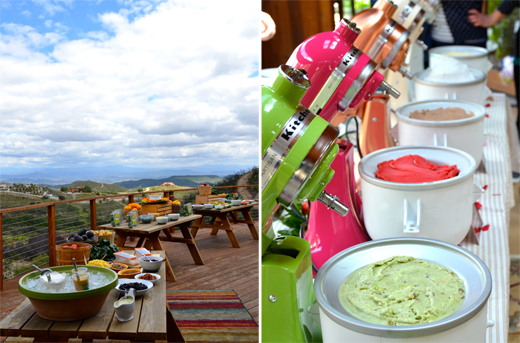 The 2014 West Coast edition of The Big Traveling Potluck proved to be an inspirational event for minds and mouths. The weekend-long conference, held in the picturesque southern California wine country, brought together more than 75 food bloggers from across the country, all thanks to the efforts of organizers Maggy, Pam  and Erika.
We kickstarted the festivities in grand fashion on Friday evening with sunset dinner and drinks at the sprawling Callaway Winery in Temecula, where we snacked on an assortment of cheeses, tapenades, seasonal salads and a wide array of desserts contributed by Potluck attendees. Of course no dinner at a vineyard is complete without a wine tasting featuring some of the region's best bottles.
Saturday morning was off to a strong start thanks to the talented teamwork of an arsenal of KitchenAid® Diamond Blenders  and fresh and frozen fruits provided by Earthbound Farm Organic. The smoothie bar served up round after round of fruit-filled beverages packed with leafy greens, coconut milk, chia seeds and more.
The potluck contributions continued at round two of breakfast, where we enjoyed more than a dozen freshly baked goods, from quickbreads and coffee cakes to muffins and homemade granola. Bloggers gathered under the sun at the long wooden tables located at our mountain retreat and sipped and snacked while taking in the expansive views.
With full bellies, we launched into the day's activities, beginning with inspirational discussions led by Aran Goyoaga of Cannelle et Vanille and Ashley Rodriguez of Not Without Salt. In addition to sharing their blogging wisdoms, they recreated a photo shoot setup to demonstrate their creative processes and provide tips on all things food styling and photography.
After additional discussions on food writing and photography, it was time to take in the scenery and mix up our own salads with a bountiful lunch buffet set against the panoramic mountain views.
Hummus, quinoa and veggies were in great abundance and tasted extra-fresh enjoyed outdoors surrounded by the crisp air. The lunchtime buffet was the perfect lead-in to one of the major event highlights: a five-flavored homemade ice cream bar.
Five KitchenAid® Artisan® Series Stand Mixers, five flavors of homemade ice cream. A line formed quickly to sample each of the flavors, which included pistachio, raspberry, chocolate-cinnamon, vanilla and dairy-free coconut.
But the sweetness didn't end there…
The conference hall swelled with enthusiasm as a tabletop full of prizes were raffled off, from a KitchenAid® Pro Line Series® 4-Slice Toaster  to a year's worth of cheese and butter. One by one, the winning bloggers shrieked with enthusiasm and quickly claimed their prizes. With a full day of activities coming to a close, we then made our way to Silverado Ranch for dinner and drinks.
Roasted cauliflower with creamy dill dressing, grilled lamb, herbed flatbread, chocolate-covered strawberries — there were many a memorable taste at the evening feast. The meal was complemented by bottles of chilled rosé and custom cocktails mixed up by the talented sister duo of This Girl Walks Into a Bar.

The Big Traveling Potluck delivered big, with an abundance of great food and spectacular conversation. We wined. We dined. And most importantly, we found inspiration, camaraderie and support through friendships new and old, all while gathered around the potluck table.