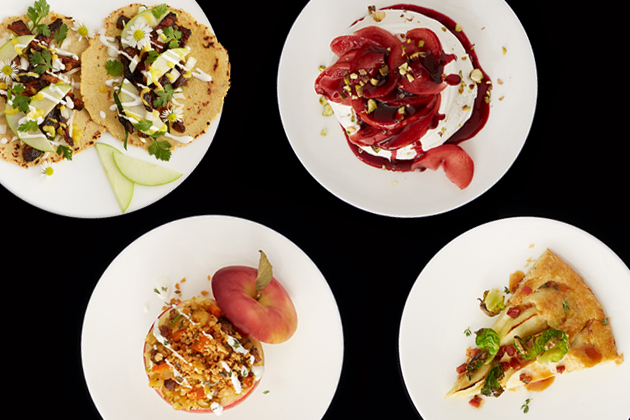 We challenged fans to share their most creative apple dish for the chance to win the ultimate prize for those who cook—a private cooking lesson with Chef Geoffrey Zakarian and an entire new suite of black stainless appliances.
We received hundreds and hundreds of creative entries from across the country. From there, Food Network judges narrowed the field down to four finalists.
The finalists faced off in New York City. Chef Zakarian judged the heated competition, which you can watch below.
It was a close race, but Ricardo clinched the victory with his creative use of apples.
Ricardo learned to cook at an early age in his grandmother's kitchen. He believes creativity is essential in everyday cooking. "Utilizing not only what's in season but also utilizing parts of the fruits, vegetables or proteins that were once wasted keeps me constantly infusing creativity to produce appealing food."
He did just that for the Apple Challenge by using apples in every part of his Bacon-Apple Tacos, including the crema, salsa and tortillas. Chef Zakarian was won over by the textures and flavors—and we're sure the bacon didn't hurt, either.
Get the recipe here.
Finalist Emily didn't always have an interest in cooking. Now it's her creative outlet. "I really began to enjoy every opportunity I had in the kitchen," she said. As a mother of two (with another on the way), Emily has plenty of opportunities to cook. For the Apple Challenge, she shared her Savory Stuffed Apples with Sausage, Sweet Potato and Goat Cheese. Chef Zakarian praised Emily's unique take on apples and declared the dish tasted like "fall on a plate."
Get the recipe here.
MacKenzie grew up on a farm and was surrounded by food. Now she travels often with her military family, and challenges herself to get her children excited about creative, healthy dishes. Chef Zakarian was intrigued by the combination of apples and cheese in MacKenzie's Savory Apple Galette with Pancetta and Brussels Sprout Leaves. Its buttery and flaky crust showed off her skills as a cook.
Get the recipe here.
Sandy loves the way cooking connects her with others. "If my cooking touches an emotional chord and transports someone to a happy place—it doesn't get any better than that." Her Hibiscus Poached Apples Atop Pistachio Clouds stood out as the only dessert among the finalists. Chef Zakarian admired the dish's presentation and the deliciously creamy inside of the pistachio clouds, a creative take on a pavlova.
Get the recipe here.
Now we challenge you to try these recipes at home and share them using #MadeWithKitchenAid.
For more information about the first-ever suite of black stainless appliances, visit kitchenaid.com/bold.