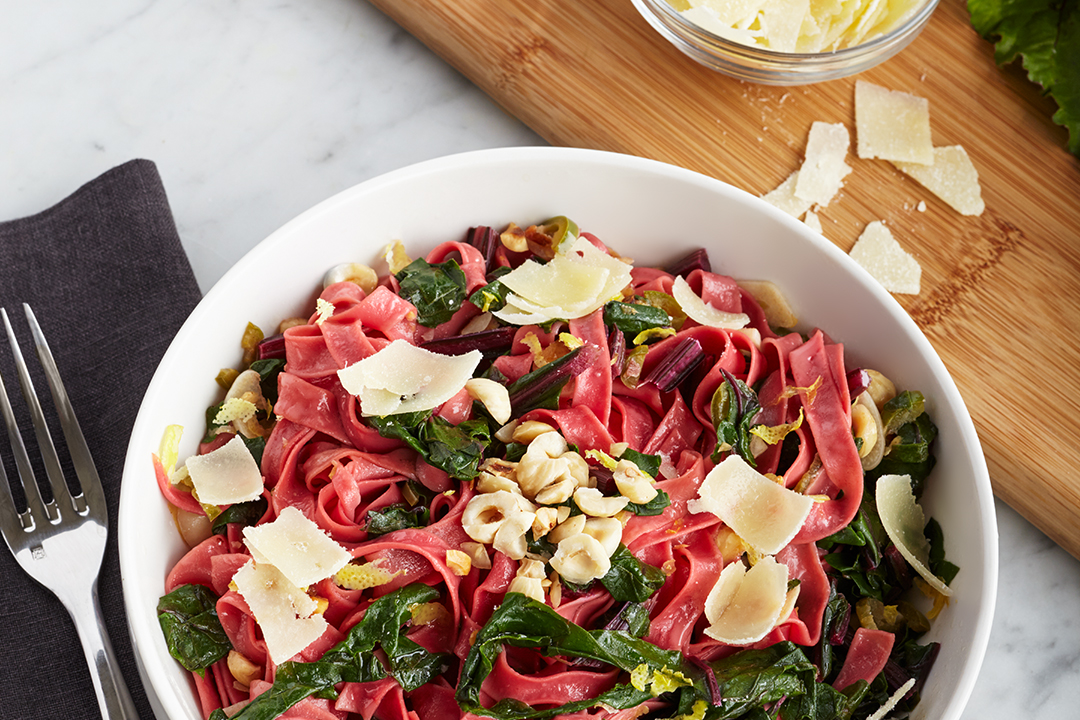 Beet Tagliatelle and Greens
Makes 4-6 servings
SCRAPS
Beet greens
INGREDIENTS
For the pasta
8 ounces red beets, greens and stems finely chopped and reserved
2 teaspoons extra virgin olive oil
Sea salt
2 large eggs
1 large egg yolk
3 cups all-purpose flour, plus more for dusting board
For the sauce
4 ounces (1 stick) unsalted butter
2 cloves garlic, peeled and thinly sliced
1 fresno or serrano chili, seeded and thinly sliced
4 anchovies, minced (oil reserved for another use)
1 lemon, zested and juiced
1/3 cup toasted hazelnuts, chopped and divided
Ricotta salata, shaved
DIRECTIONS
For the pasta
Heat the oven to 400° F. Toss beets with oil and a large pinch of salt. Place on a baking sheet and cover tightly with foil. Roast until tender, 45 minutes to 1 hour. Remove foil and let cool until easy to handle. Rub the beets with paper towels to remove skins and roughly chop.
Place the beets in the KitchenAid® Pro Line® Series Blender and blend until smooth. Measure about 1/2 cup puree and return to the Pro Line® Series Blender with eggs and yolk. Blend until smooth.
In the bowl of the KitchenAid® Artisan® Mini Stand Mixer fitted with flat beater, combine the flour and 1 teaspoon of salt. Add the beet mixture and mix until a rough dough forms.
Attach the dough hook and beat on low speed for about 5 minutes, adding more flour one tablespoon at a time until dough is smooth 
Transfer the dough to a well-floured surface. Pat it into a disk and wrap in plastic. Allow to rest for at least 20 minutes or up to 2 hours at room temperature.
Cut the dough into 8 pieces. Working with one piece at a time (keep the remaining pieces covered with plastic), flatten the dough into an oblong shape, slightly thinner than the Pasta Roller's widest setting (one) from the KitchenAid® 3-Piece Pasta Roller & Cutter Set.
Dust the dough very lightly with flour and feed through the roller. Fold lengthwise into thirds and rotate 90°. Repeat twice on the same setting to smooth the dough and increase its elasticity.
Turn the dial to the next narrower setting. Pass the dough through twice, gently supporting it with your palm. Continue to press the dough, passing it through finer settings, two passes on each setting, until the sheet is almost translucent and very thin, but still intact (five of eight on the Pasta Roller).
Cut the sheets into fettuccine using the Fettuccine Cutter. Cook immediately or lay in a single layer on a baking sheet dusted with flour, cover tightly with plastic wrap, and refrigerate overnight.
For the sauce
Bring a large pot of salted water to a boil. In a large skillet, melt the butter over medium heat, stirring occasionally. When the butter is a dark golden color, remove from the heat and quickly stir in garlic, chili, anchovies, lemon zest and juice, and about half the hazelnuts.
Boil the pasta until it floats, about 2-3 minutes. During the last 30 seconds of cooking, drop the reserved beet greens and stems in the water.
Drain the pasta (reserve about one cup cooking water) and add to the skillet, stirring in a little pasta water if needed to bind the sauce to the noodles. Garnish with the remaining hazelnuts and shaved ricotta salata.
Print