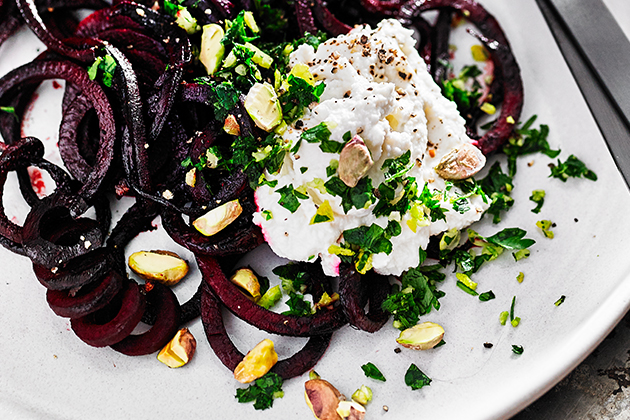 Beet Noodles with Ricotta and Parsley Pesto
Makes 2 servings
INGREDIENTS
3 beets, trimmed and scrubbed
1 tablespoon olive oil
2 shallots, thinly sliced
1 clove garlic, minced
1 tablespoon balsamic vinegar
1/2 cup ricotta cheese
1/4 cup pistachios
For parsley pesto
1 cup parsley
1 clove garlic
1 teaspoon lemon zest
1 teaspoon lemon juice
1/4 cup olive oil
1/2 teaspoon salt
1/2 teaspoon freshly ground pepper
DIRECTIONS
Attach Spiralizer Attachment to KitchenAid® Stand Mixer. Center 1 beet on fruit and vegetable skewer; attach to Spiralizer. Attach peeler blade and fine spiralizing blade and position at end of beet. Place medium bowl below blade to catch spiralized beets and peel. Turn stand mixer to speed 4 and process until blade reaches end of beet. Remove peel from bowl. Repeat with remaining beets. Set aside.
Heat 1 tablespoon olive oil in large skillet over medium high heat. Add shallot and garlic, sauté 1– 2 minutes. Add spiralized beets and continue cooking 6 – 8 minutes, until beets begin to caramelize. Stir in balsamic vinegar.
For parsley pesto
Place parsley and garlic in KitchenAid® Food Chopper. Pulse 5 – 6 times until finely chopped. Add lemon zest, lemon juice, salt and pepper to food processor. Pulse 3 – 4 times until combined. While the food processor is running, drizzle in olive oil. Set aside.
To serve, divide beets evenly between 2 plates. Top each plate with 1/4 cup ricotta, 2 tablespoons pistachios and 2 – 3 teaspoons of parsley pesto. Add more pesto as desired.

Print
*The Contributor of this post has been compensated by KitchenAid for this post, but this post represents the Contributor's own opinion.*