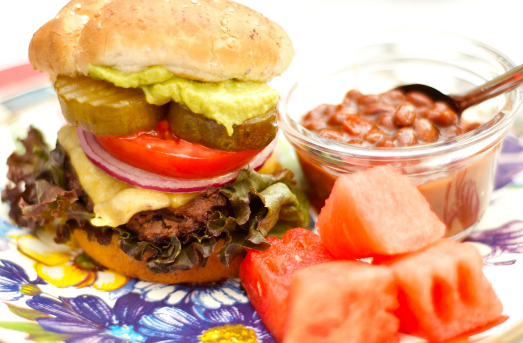 A favorite way to enjoy a summer evening is to host a casual dinner party and grill up some Beef and Black Bean Burgers. Why overcomplicate entertaining when a simple summer barbecue with burgers will do just fine. We all know that a fabulous burger is all about the combination of flavors. Fire up the grill, set out a variety of flavorful toppings in a "bar" style for guests to make their own plates, and set a pretty table. It's really that easy!
Burgers are fun food for all ages, and with a couple of simple side dishes, you can create a beautiful, healthy summer meal. Burgers are also one of the easiest summertime foods to pop on the grill for a last minute get-together. The more flavors and toppings you have, the more interesting and festive the party!
Plan ahead:
Plan the menu, invite the guests, create a checklist, and get done as much preparation before the party as possible. This is easy for a burger bash, because much of the condiment platter can be prepared ahead of time.
Easy menu:
Our easy menu consisted of Beef and Black Bean Burgers with all the delicious toppings, and 2 sides—watermelon and baked beans! We served beer and soda, and of course, always water!
The grill:
We used our new 25-inch KitchenAid® 3 Burner Gas Grill and loved it! So many great features, but especially the side burner, where we warmed up the beans while the burgers were grilling! The KitchenAid® 3 Burner Gas Grill has a very large main cooking area, with a warming rack, for a total of 645 square inches.
Our son, who did the grilling, commented on the the easy-to-use electronic ignition powered by two AA batteries, and the evenly distributed heat, which is very important to the grill master! There's nothing worse than a grill that does not cook evenly. Combined with a durable, fully welded, stainless steel main lid, stainless steel cart, utensil hooks, and two folding side shelves, this KitchenAid® 3 Burner Gas Grill was the center of our backyard party. You can easily roll it around, because it's on a cart.
The toppings:
Decide on the different flavors you want to create and make a list of all the toppings you will need. Besides the usual mayonnaise, mustard, and ketchup, toppings will vary, but we found these to be our favorites with the Beef and Black Bean Burgers: lettuce, guacamole, onion, tomato slices, pickles, and salsa. Take it a step further with dressings such as spicy hot sauce, blue cheese, chipotle, or barbecue sauce. Since the grill is on, it's easy to grill up onions and fresh garden vegetables, such as zucchini and romaine, to add to the burger.
Burgers and buns:
Once the KitchenAid® 3 Burner Gas Grill is fired up, aim for the ultimate burger: one that's juicy and moist. You may need to take orders from guests, asking whether they like their meat rare or well-done. Setting up a burger bar is a great way for guests to try new flavors and toppings; and then there are the buns. Some guests like soft fresh buns, but others like them toasted and crisp. Mix it up, leaving some fresh, and others toasted!
The table:
Gather your friends 'round a summery themed table, setting up the burger bar right next to it, complete with delicious toppings. It's an easy and fun way to host a casual dinner party. All you need is a tablecloth, pretty dishes, and an attractive summer centerpiece. I chose dahlias, because they are my favorite end-of-summer garden flower. Oh, and don't forget the paper napkins!
Extra stuff:
It's the the little things that make the flow of a dinner party feel just right. For example, small bowls to serve the beans in (who like beans running all over their pretty plate?), extra napkins off to the side, and drinks chilled and close to the dinner table.
Prepping in advance, choosing a "favorite burger to serve", along with a simple menu, and hosting a casual sit-down dinner party, will allow you to be relaxed as the host, resulting in an easy feel for all.
Sounds like the perfect summer party, right?
Beef and Black Bean Burgers
Makes 12 servings
INGREDIENTS
2 pounds lean ground beef
1 can black beans, rinsed and drained
1 egg
1 tablespoon Worcestershire sauce
1/4 cup bread crumbs
1/4 cup diced red onion
1 teaspoon chili powder
1 teaspoon ground cumin
1 tablespoon fresh oregano, finely chopped
1 tablespoon fresh cilantro, finely chopped
1/2 teaspoon salt
Freshly ground black pepper
Hamburger buns
DIRECTIONS
In a large bowl combine all the ingredients. Mix well with hands for at least a minute or two.
Shape into 12 burgers and grill, broil or pan-fry until thoroughly cooked.
Place burgers on buns and serve with favorite condiments.
Print
*The Contributor of this post has been compensated by KitchenAid for this post, but this post represents the Contributor's own opinion.*