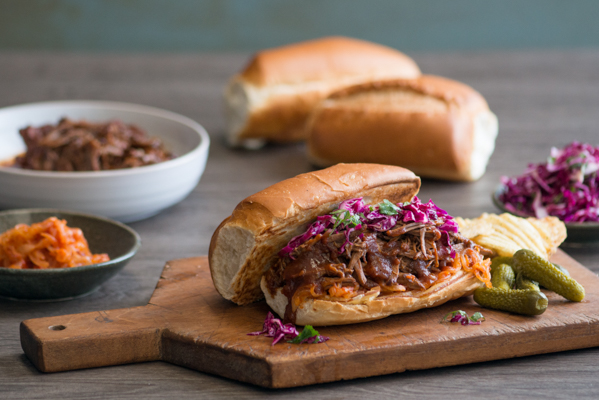 Who doesn't love a nice BBQ brisket sandwich piled high with delicious toppings? While this sandwich may seem complicated, it is easy to cook and all the elements can be made in advance. So if you have friends over, the only thing you'll have to do is assemble the sandwiches when they arrive. Let's get cooking!
The first thing to do is go to your butcher and pick out a nice four pound brisket. The brisket should have a small layer of fat on it to keep it moist while cooking. While my family loves to cook outside in the summer, it is just as easy to cook this BBQ brisket right in my KitchenAid® Professional Cast Iron Casserole. You can't beat the way your house will smell while this beautiful roast is cooking.
The brisket is browned on the outside in the casserole. Ingredients are added to make a savory barbecue sauce. It is then baked in the oven for several hours until it is tender. It is so tender that no knife is required. It can be pulled apart with two forks. This brisket will just melt in your mouth. It is the perfect meat to make a rich hearty sandwich.
Next it's time to make the onion jam.  The caramelized onions really make this sandwich scream with flavor. The onions have to be cooked for a while and it can be time consuming but to me it is worth every minute. The sweetness of the onions are well worth caramelizing this vegetable.
Once the onions are cooked, other ingredients are added to make them savory.  These savory onions are so good that I usually make extra to add to grilled cheese sandwiches. These onions are also great on hotdogs and hamburgers too.
The red cabbage slaw can be made in advance and kept in the refrigerator. I love how the flavors come together and the cabbage gets a little pickled. Sometimes I will make the slaw a day before and refrigerate it until I am ready to use it. The beautiful colors of the cabbage and cilantro make it so pretty. It's hard for me to resist eating half the bowl the day before. I always make extra slaw to serve on the side of the sandwich.
Once all the toppings are made, it is time to put this sandwich together. I buy the freshest sub rolls possible and split them in half. Some smoked Gouda cheese goes on the roll first and I toast the rolls and cheese under the broiler so it melts nicely. The onions and shredded brisket are then piled high on the rolls and topped off with some red cabbage slaw. This is one messy but great sandwich.
While I love making this sandwich, I am not thrilled about washing all the dishes. Thanks to my KitchenAid® Architect® Series II Dishwasher, it is not a problem at all.  There is plenty of room to fit all the dishes plus pots and pans. I especially like the Heavy cycle option when I make this sandwich. I can be assured that all my dishes will come out squeaky clean even though they have been doused with sticky sauce and melted cheese.
This sandwich requires a little work in the making but once you take a bite, you will make it over and over again. It is one of my favorites and by making the extra toppings, this po boy sandwich is as rich as it can be.  I love to serve my sandwiches with pickles but of course they are optional. Enjoy!
BBQ Brisket Po Boy
Makes 8-10 servings
INGREDIENTS
For the brisket
4 pound beef brisket
1/2 teaspoon salt
1/2 teaspoon black pepper
2 tablespoons olive oil
1 large Poblano pepper, cored, seeded and chopped
8 ounce can tomato sauce
10 ounce can diced tomatoes with green chills
1/3 cup molasses
1/4 cup ketchup
1 teaspoon smoked paprika
1 teaspoon celery salt
1 teaspoon cumin
1 teaspoon onion powder
2 Tablespoons cider vinegar
1 cup water, more if needed
For the onion jam
2 Tablespoons olive oil
5 cups thinly sliced onions
1 Tablespoon cider vinegar
1 Tablespoon tomato paste
1 Tablespoon honey
1/2 cup water
Salt and a dash of cayenne pepper to taste
For the red cabbage slaw
1/2 cup cider vinegar
1/4 cup sugar
1 teaspoon onion powder
1/4 cup olive oil
1/2 head red cabbage, cored and shredded
1/4 cup chopped cilantro
Salt and pepper to taste
For the sandwiches
4 to 5 long hoagie or sub rolls
12 to 15 slices of smoked Gouda cheese
Chopped cilantro for garnish
Pickles for garnish
DIRECTIONS
For the brisket
Preheat oven to 325 degrees.
Trim the brisket of fat, leaving just a thin layer. Season the brisket with the salt and pepper.
Heat the oil in a KitchenAid® Professional Cast Iron Casserole to medium high heat. Sear brisket on both sides. Reduce the heat to medium, and remove brisket.
Add the Poblano pepper, tomato sauce, diced tomatoes, molasses, ketchup, paprika, celery salt, cumin, onion powder, cider vinegar and water. Stir well and place the brisket (fat side up) back into the KitchenAid® Professional Cast Iron Casserole once the sauce is simmering. Spoon some of the sauce on top of the brisket.
Cover the KitchenAid® Professional Cast Iron Casserole and place in oven. Roast for 3 hours or until meat is tender and can be pulled apart by two forks. Check once during cooking and if sauce is getting too thick, add another 1/2 cup of water.
For the onion jam
In a medium fry pan, heat the olive oil to medium heat. Add the onions and cook for 15 to 20 minutes or until onions start to turn brown. Turn heat to low and add vinegar, tomato paste, honey and water. Mix well and cook for another 10 minutes until onions are cooked and sauce thickens. Add salt and a dash of cayenne to taste.
For the red cabbage slaw
In a small pot, mix together vinegar, sugar and onion powder. Cook on medium heat until sugar dissolves. Remove from heat and whisk in the olive oil.
In a medium size bowl, mix together the cabbage and cilantro. Pour the dressing over the cabbage and season with salt and pepper to taste. Mix well. Refrigerate for at least one hour.
For the sandwiches
Preheat the broiler to 400 degrees.
Shred the brisket with two forks and reserve some of the BBQ sauce.
Split rolls in half and place slices of cheese on bottom side of rolls. Place the roll halves on a baking sheet under the broiler for a few minutes so that the cheese melts. Spoon on some onion jam and pile the shredded brisket on the rolls. Spoon some of the extra BBQ sauce on the meat then top with the cabbage slaw. Cover with other half of bread and cut each sandwich in half.
Garnish with chopped cilantro and pickles. Any extra slaw can be served on the side.
Print
*The Contributor of this post has been compensated by KitchenAid for this post, but this post represents the Contributor's own opinion.*