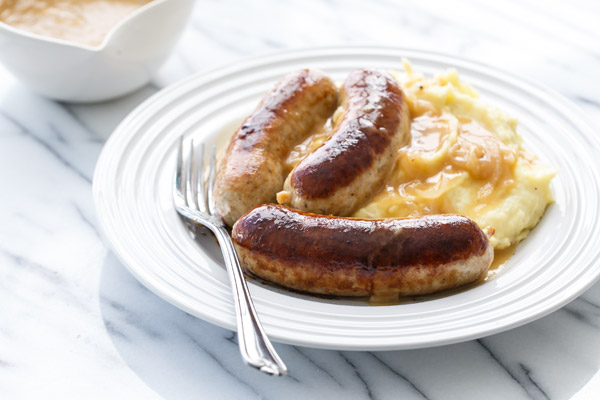 Bangers and mash: funny name, delicious dish. Rich sausages are served over fluffy, buttery potatoes and slathered with an intensely flavored onion gravy. Now, just in time for Saint Patrick's Day, you can make this lighter version of Bangers and Mash at home, from scratch, using your KitchenAid® Stand Mixer with the Food Grinder Attachment and Sausage Stuffer Kit!
Rather than buying generic sausages where you have no control over the meat quality and spice quantity, making sausages at home allows you to fine tune the recipe to your personal preferences.
We've used freshly ground chicken in place of the traditional ground pork for a lighter version, which is by no means short on flavor. A mix of light and dark meats keep the sausages moist, and a few slices of bacon add extra flavor and fat to ensure a tender sausage without all the extra fat and gristle.
So why are they called bangers? The name comes from World War II time, when, due to meat shortages, sausages were often made with a higher-than-normal water content, and they would often explode (bang!) when cooked over high heat. We didn't have any exploding sausages in our batch, luckily, unless you count the flavor explosion!
To make homemade sausages, you first want to grind up your meat mixture by attaching the Food Grinder Attachment to the power hub of the Stand Mixer. This recipe calls for a total of 2 pounds of meat—we used about 2/3 boneless skinless chicken thighs and 1/3 boneless chicken breasts. Add a few slices of bacon and strips or cubes of oven-dried bread, which will get ground into the meat like breadcrumbs. We found that cutting the meat into 1-inch strips and then freezing for 15 to 30 minutes made grinding easier.
The seasoning blend is a mixture of salt, pepper, white pepper, ginger, nutmeg, thyme, sage, and onion powder. It's definitely heavy on the pepper (intentionally as my husband, Taylor, LOVES black pepper), but if you're sensitive to it, you might prefer to dial it back.
Sprinkle the spices evenly over the strips of meat and then grind. Mix in a few tablespoons of olive oil to the ground meat (since chicken is much lower in fat than pork, this extra oil will help keep the sausages moist and tender). Refrigerate the meat until you are ready to stuff your sausages (again, the colder the better during all steps of the sausage making process).
Meanwhile, prepare your casing. We used natural pork casings for our sausages, which you can usually find at your local butcher or grocery store butcher counter (they probably keep it in the back, just ask). You'll need about 6-7 feet of casing for this recipe, which makes about 9 good-sized sausages. Store the casings in salt water to keep them moist and flexible until you're ready to use them.
Grease the large sausage stuffer from the Sausage Stuffer Kit with some shortening, then slide the casing onto the tube. As you do this, keep the casing taut and centered on the end of the tube. It'll make it easier to slide on the tube.
Leave a good 3-4 inches of casing hanging off the end of the tube. Some people tie this off, but I found that it trapped air that way (and trapped air can result in exploding sausages). Leave the end open to allow the air to release, but hold on to it so your meat doesn't slide right out the end.
Now is the part where having a second set of hands is not only helpful, but a necessity. Drop bits of meat down the tube (we found using pieces loosely shaped into logs slightly narrower than the feed tube helped them go in more smoothly). Use the food pusher to push the meat down towards the auger. You can work on low or medium speed here, whatever you are comfortable with.
As the meat comes out the end of sausage tube, allow it to fill up the casing, easing out more casing to form evenly shaped sausages. This does take some practice, so don't worry if your first batch ends up lumpy looking (mine sure did. But they'll expand when cooking and you won't even know).
Rather than making one super long sausage, we found that making about 3 links at a time was the easiest to handle and cook later. Once you have about 3 links worth of sausage stuffed (about 18 inches), pinch the meat at the end of the tube and pull off a few extra inches of casing, then cut it (leave enough of a tail to tie a knot). Tie off both ends of the casing and then pinch to divide the sausage into three even lengths, twisting in opposite directions to form the links.
Repeat with the remaining meat and casing until it's all gone. You should end up with about 9 sausages. The sausages need to rest before you cook them, so cover and refrigerate for at least 1 hour. At this point, you can also freeze them for later use.
To cook the sausages, heat a few tablespoons of olive oil in a skillet set over medium heat until it's hot. Add sausages, shimmy them a bit in the pan so they don't stick. Cover the skillet and let cook for 5 to 7 minutes per side or until deeply browned. Flip (with connected links it helps to flip all 3 attached sausages at once) and cover the skillet again for another 5 to 7 minutes.
When the sausages are nice and brown on both sides, check the temperature of one of them. It should read 165° F. You don't want to poke too many holes in your sausages (it'll release the delicious juices!), but you do want to be sure they are cooked through.
Serve your homemade bangers over creamy mashed potatoes and slathered in onion gravy.
Share your take on this Chicken Bangers & Mash on Instagram using #MadeWithKitchenAid for a chance to be featured.
Chicken Bangers with Onion Gravy
Makes 6 servings (9 sausages)
INGREDIENTS
For the sausages
2 pounds boneless skinless chicken (use a mix of light and dark meat)
2 slices bacon
2 slices oven-dried bread
1 teaspoon kosher salt
1 1/2 teaspoons black pepper
1 teaspoon ground sage
1 teaspoon onion powder
1/2 teaspoon ground ginger
1/2 teaspoon dried or ground thyme
1/4 teaspoon white pepper
1/4 teaspoon ground nutmeg
2 tablespoons olive oil, plus more for cooking
1 piece (about 6 feet) natural pork casing
Shortening, for greasing
For the gravy
1 tablespoon olive oil
1 tablespoon unsalted butter
1 medium onion, thinly sliced
1 tablespoon flour
1 cup white wine
1 cup chicken broth
1 teaspoon cider vinegar
Pinch ground sage
Salt and black pepper, to taste
DIRECTIONS
For the sausages
Slice chicken and bacon into 1-inch strips. Freeze for 15 to 30 minutes (this will make the meat easier to grind). Cut bread into 1-inch strips or cubes. If bread is still moist, dry it out in a 250° F oven for 10 to 15 minutes. You don't want to brown the bread, just thoroughly dry it out.
Whisk together salt, pepper, sage, onion powder, ground ginger, thyme, white pepper, and nutmeg in a small bowl. Sprinkle evenly over the meat.
Attach the fine blade from the KitchenAid® Food Grinder Attachment to the power hub of the KitchenAid® Stand Mixer. Place a bowl underneath to catch the ground meat and turn the Stand Mixer to speed 4. Feed strips of meat down the feed tube, using the food pusher as needed. Alternate strips of meat with a piece of bread to grind it evenly throughout.
Add 2 tablespoons of olive oil and gently toss to combine. Refrigerate until you are ready to stuff your sausages.
Replace the grinder blade with the large sausage stuffer tube from the KitchenAid® Sausage Stuffer Kit. Grease with shortening. Slip the casing onto the Sausage Stuffer, leaving a couple inches of tail hanging off the end.
Turn the Stand Mixer on to speed 4. Feed bits of meat (shaped into oblong logs) down the feed tube, using the pusher to move the meat towards the auger. It helps to have a second set of hands for this part.
Holding on to the tail with one hand and the main length of sausage with the other, let the meat fill the sausages, gently guiding more casing off the tube so the sausage fills evenly. You can make one long link, or stop after about 18 inches or so (about 3 links worth).
Pull off the sausage, leaving a few inches of tail, then trim. Tie off ends of sausage with a string or by tying the casing in a knot. If you have any lumps, you can reshape the sausages slightly at this point.
Divide the piece into even lengths and then twist in opposite directions to form links. Repeat with remaining meat and casings.
Refrigerate sausages for at least 1 hour before cooking or freeze for later use.
For the gravy
To prepare the gravy, heat oil and butter in a large skillet over medium heat. Add the onions and cook until softened and starting to brown, 20 to 30 minutes. Whisk in the flour. Add white wine, chicken broth, vinegar, and sage. Bring to a simmer and cook until thickened, about 20 to 30 minutes more. Season to taste with salt and pepper.
To cook sausages, heat a few tablespoons of oil in a skillet over medium heat until it shimmers. Add sausages, shimmy them a few times so they don't stick. Cover the skillet and cook for 5 to 7 minutes or until bottoms are golden brown. Flip and cook another 5 to 7 minutes or until browned and internal temperature reaches 165° F.
Serve warm over mashed potatoes and spoon over onion gravy.

Print
*The Contributor of this post has been compensated by KitchenAid for this post, but this post represents the Contributor's own opinion.*