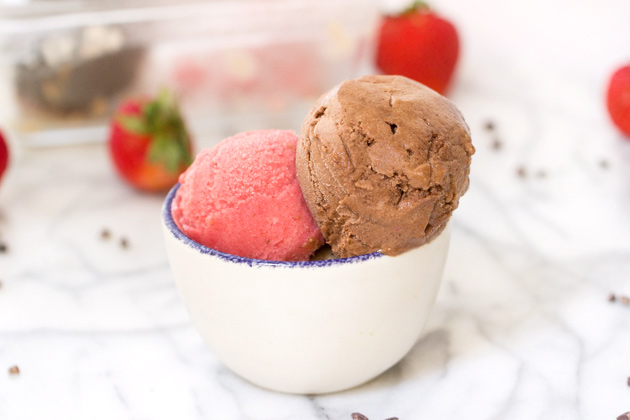 We're in the midst of summer, it's scorching hot outside, and all I can think about is ice cream.
Unfortunately, ice cream isn't something you should eat "all day every day" because let's face it: it's high in sugar, high in fat and is typically not the healthiest dish.
But what if I told you that you can make the creamiest, dreamiest ice cream out of fruit? As in just fruit and that's it. Would you believe me?
While you might take a little convincing on the idea of fruit-based "ice cream," this recipe allows you to eat the ultimate summertime dessert whenever you darn well please. Ice cream for breakfast? Go for it! Want a double serving? Have at it! This recipe is the ultimate healthy hack, which is why I'm super excited to share it with all of you for KitchenAid's Healthy Hacks series on the blog!
The only thing you will need for the base of this ice cream is frozen bananas, which you'll blend up using your KitchenAid® Food Processor. From there you can get a little creative and add in your favorite flavors to make all sorts of different ice cream varieties.
Today I'm showing you three of my favorites: vanilla bean, dark chocolate and strawberry. They all use 3 ingredients or less, take less than 10 minutes to make, and they don't require an ice cream maker. It's like instant ice cream, that just happens to be good for you.
If you just want just one or two servings of ice cream, then use your 3-cup work bowl that comes with the Food Processor. Want to make a huge batch? Use the 11-cup work bowl instead. That's what I love most about this machine, it can be tailored to fit exactly what you need it for.
The first thing you'll need to do is grab your ingredients. To make the vanilla bean base, you'll need frozen bananas and vanilla bean (or vanilla bean powder).
Add the ingredients into your Food Processor and process on high until smooth and creamy. You might need to scrape down the sides a few times to ensure all the ingredients get evenly incorporated.
Depending on the texture you're looking for in your ice cream, you can either enjoy this flavor as is or you can transfer it to a freezer-safe container and let it harden for a few hours to become scoopable.
For the dark chocolate flavor, we're going to use the same base of frozen bananas, but instead of vanilla powder we're going to use unsweetened cocoa powder. Since cocoa powder can be kind of bitter, we're also adding in a little maple syrup to make it ultra decadent.
For this one, you're going to want to process your bananas first, and when they have thoroughly blended, add in your cocoa powder and sweetener.
And again, just like the vanilla variety, if you want this to be a little harder, simple freeze it for a few hours and then serve.
Lastly we have our strawberry ice cream. The beauty of this version is that we are using real strawberries to get that gorgeous pink color.
Add both the bananas and the strawberries to your Food Processor. Then, simply process these ingredients on high until smooth and creamy.
Freeze it for a few hours to give it the consistency of real ice cream, or just eat it right away!
Not feeling strawberry? You can also use the same "formula" to create any other fruity/sorbet-style ice cream that you want. For example you could make a raspberry, peach, mango, or cherry flavor by just swapping the strawberries in this recipe for your favorite frozen fruit.
So now have I convinced you? This banana-made ice cream is the perfect way to cool down on a hot summer day or to enjoy your favorite frozen treat without any of the guilt. Just like traditional ice cream, it's creamy and sweet, but it's low in fat and calories, and is sweetened only with natural sugars.
For toppings, you can go wild – I love adding cacao nibs, chopped nuts, a drizzle of peanut butter or even a homemade chocolate sauce. Or you can keep it plain, as I have done here, and just enjoy the sweet richness of the fruits. I cannot wait for you to try this recipe for yourself!
Share your take on this Banana Ice Cream recipe on Instagram using #MadeWithKitchenAid for a chance to be featured.
Banana Ice Cream – 3 Ways
Makes 4 servings
INGREDIENTS
For vanilla bean flavor
2 cups frozen bananas
1/2 teaspoon vanilla bean or vanilla bean powder
For dark chocolate flavor
2 cups frozen bananas
2 tablespoons unsweetened cocoa powder
1 tablespoon maple syrup (or liquid sweetener of choice)
For strawberry flavor
1 cup frozen bananas
1 cup frozen strawberries
1 tablespoon maple syrup
DIRECTIONS
Combine the bananas and vanilla (for the vanilla bean flavor), the bananas and strawberries (for the strawberry flavor), or just the bananas (for the dark chocolate flavor) into the 3-cup work bowl of your KitchenAid® Food Processor.
Process the mixture on high until smooth and creamy, scraping down the sides as needed. At this step, you can also add in the sweetener (for the strawberry flavor) or the cocoa powder and syrup (for the dark chocolate flavor) and process until incoporated.
Serve immediately for a softer ice cream, or transfer to a freezer-safe container and freeze for at least 1 hour for a harder ice cream.
Print
*The Contributor of this post has been compensated by KitchenAid for this post, but this post represents the Contributor's own opinion.*