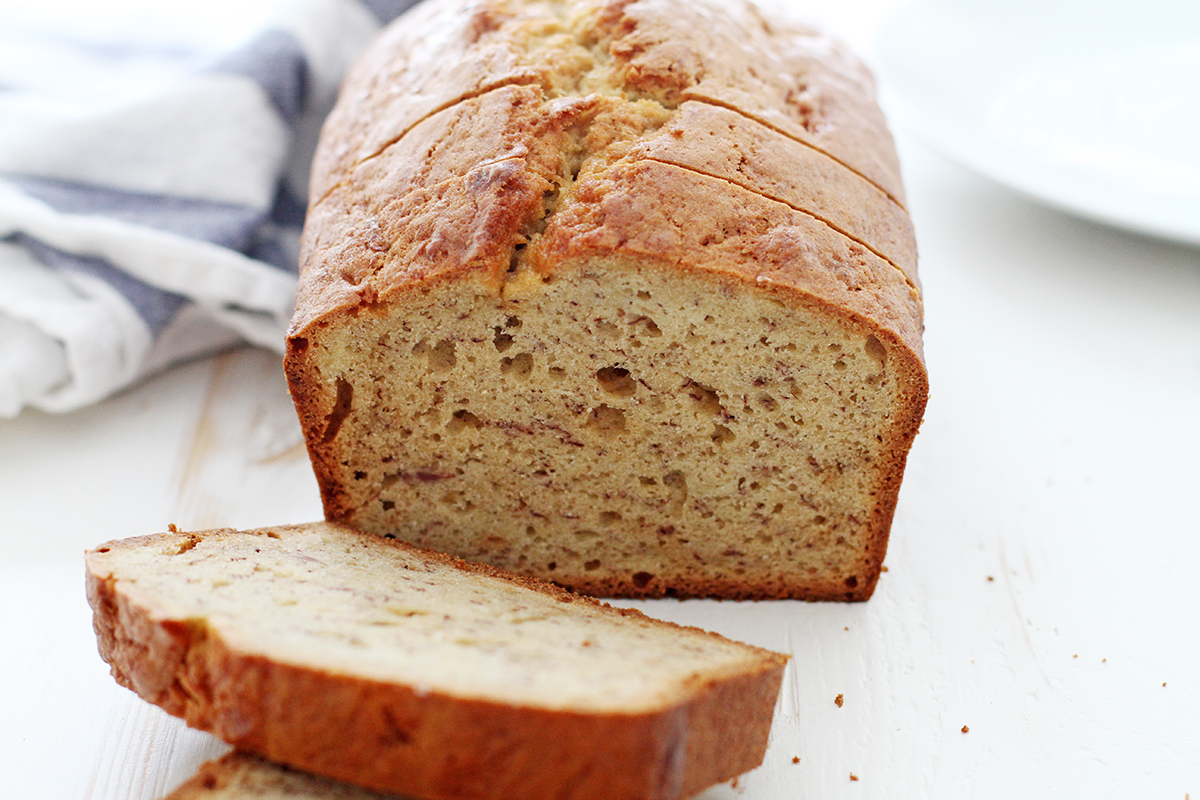 Quick breads and muffins are great for the beginner baker, but even the most advanced baker knows that a few simple tricks and techniques will yield the best results. With the help of your KitchenAid® Pro Line® Series 7-Qt Bowl Lift Stand Mixer and KitchenAid® Professional-Grade Nonstick 9×5" Loaf Pans, you can make a better banana bread with ease.
Nothing brings back stronger memories of my childhood than the smell of banana bread. My mom made it whenever we had extra-ripe bananas around, and it was always a treat to come home from school to a warm kitchen filled with that sweet scent of fresh-baked goodness.
As I've grown up and practiced baking in my own kitchen, I've found that quick breads and muffins are some of my favorite foods to bake. They're easy, versatile, delicious and perfect to make for on-the-go breakfasts, afternoon snacks and gifts for friends and family. But as is the case with even the easiest foods, there are a few simple tricks and techniques to help any baker succeed in baking the best-ever quick breads.
This recipe for banana bread is based on my mother's classic recipe, though I've doubled it so you can freeze one loaf for later or share it with someone you love. To start, heat your oven and grease two KitchenAid® Loaf Pans with baking spray. Baking spray contains flour for added security that your loaves won't stick to the sides of the pan, but if you don't have it, you can spray the loaf pans with cooking spray or brush them with oil. Then, dust them lightly with flour and tap away the excess flour. What I love about these loaf pans, too, is that the aluminized steel creates even heating so you can be sure your quick breads will be perfectly golden brown.
In the bowl of your KitchenAid® Stand Mixer, use the flat beater to beat sugar, eggs and melted butter until combined. Add in buttermilk and 2 cups of mashed ripe bananas. Make sure the bananas are very ripe – almost black, even. The riper your bananas, the more banana flavor will be imparted into the bread. Beat in the buttermilk and bananas until combined.
Add flour, baking soda and salt and stir just until a mostly smooth batter forms. The key to soft, tender loaves is to not overmix the batter. Even a lump in the batter here and there is okay, provided that you don't overmix it.
At this point, you can leave the batter as is, or stir in your favorite add-ins, such as chocolate chips, chopped nuts, dried fruit, citrus zest, coconut flakes, etc. You could also stir in a swirl of nut butter or Nutella after pouring the batter into the loaf pan. The possibilities are endless!
Divide the batter evenly between the two prepared loaf pans, then bake them on the center rack of the oven for about 1 hour 15 minutes until a toothpick inserted in the center comes out clean. The loaves should be deep golden brown on top with a split running down the center.
Cool the loaves in the pans for 10 minutes, then transfer them to a cooling rack to cool completely before slicing.
These tips translate to just about any quick bread or muffin batter, so use them the next time you feel the urge to bake. And be sure to share your take on this quick bread recipe with us on Instagram using #MadeWithKitchenAid for a chance to be featured.
Banana Bread
Makes 24 servings, 2 loaves
INGREDIENTS
2 cups granulated sugar
4 eggs
1 cup (2 sticks) unsalted butter, melted and slightly cooled
1 cup buttermilk
2 cups mashed ripe bananas (about 6 bananas)
5 cups all-purpose flour
2 teaspoons baking soda
1 teaspoon salt
DIRECTIONS
Heat oven to 350°F. Grease bottom and sides of two KitchenAid® Professional-Grade Nonstick 9×5" Loaf Pans with baking spray.
In bowl of a KitchenAid® Pro Line® Series 7-Qt Bowl Lift Stand Mixer with the flat beater attachment, beat sugar, eggs and melted butter on medium speed until combined. Stir in buttermilk and mashed bananas. Add flour, baking soda and salt. Stir just until smooth and combined.
Divide batter evenly between prepared Loaf Pans. Bake on center rack of oven 1 hour 15 minutes to 1 hour 30 minutes until toothpick inserted in center of loaf comes out clean. Cool 10 minutes in pan, then transfer loaves to cooling rack to cool completely.
Print
*The Contributor of this post has been compensated by KitchenAid for this post, but this post represents the Contributor's own opinion.*