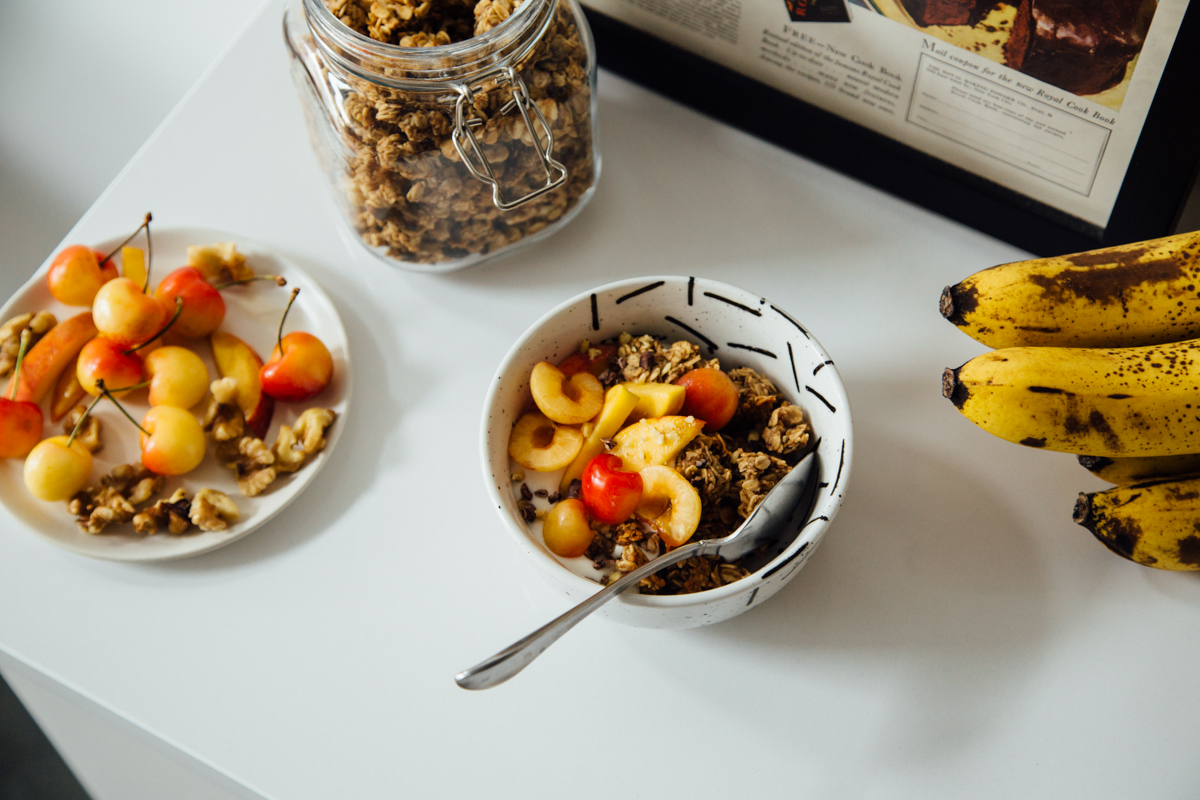 Granola is one of those staples I almost always have stashed away somewhere in my kitchen. Most of the time I cave and go with the store-bought variety. Lately, I've been trying really hard to make sure I've got a batch of the homemade stuff on hand because it's more cost effective to DIY and also far more nutritious than most granola you'll find at the grocery store.
Ok, far more nutritious might be a stretch, but there's considerably less refined sugar in my homemade granola so that qualifies as being far more nutritious in my book. Speaking of sugar, since my husband and I consume our fair share of the processed stuff (hello, late-night ice cream [him] and chocolate [me] binges!), I've been trying to make a better effort to cut back on the number of processed sugar-laden foods we have within reach. And since some things are easier than others, I thought granola would be a good place to start (it was).
I love keeping granola on hand because it makes for a quick and easy breakfast. I especially love keeping it on hand this time of year because it pairs so well with the fresh fruit that's available at the local farmer's markets. Even better? The subtle sweetness of this particular granola recipe really allows the flavors of the fruit to shine, which is exactly what you want when you're eating fruit that's at its prime.
The granola is simple to put together and surprisingly enough, the first step doesn't call for you to preheat your oven because we're using the KitchenAid® Compact Oven to make this granola and there is no preheating required for this recipe. My other favorite thing is that it uses a lot less energy than my standard-size oven.
All you have to do is mash up the bananas then whisk in the coconut oil, walnut butter, and pure maple syrup. Once the liquid base is nice and creamy, you're going to toss in the cinnamon, salt, and rolled oats, and mix until combined. Easy, right?
If you've ever made granola from scratch before, you'll notice that this recipe is pretty wet compared to other granola recipes you've made. But that's okay because once you let the granola mixture rest for 10 minutes, the rolled oats absorb the excess moisture.
It's time to bake! Line the broiler pan with parchment paper and spread the granola mix evenly across the pan. Set the temperature to 325˚ F and bake the granola for 55-60 minutes. You'll want to toss the mixture halfway through. Then add the walnuts and cacao nibs (if using) once there are only 10 minutes left on the timer.
When the granola finishes baking, make sure you let it cool on the baking pan. Try to resist the urge to eat it because doing so will probably result in a burnt mouth (I speak from experience).
Once cool, keep the granola in a loosely covered container and eat as-is, drenched in your favorite milk or paired with yogurt and fresh fruit from the farmers market (my favorite).
Share your take on this Banana Bread Granola on Instagram using #MadeWithKitchenAid for a chance to be featured.
Banana Bread Granola
Makes 4-6 servings
INGREDIENTS
2 medium (210 grams) over-ripe bananas
3 tablespoons (30 grams) refined coconut oil, melted (cooled)
1/4 cup (60 grams) raw walnut butter
3 tablespoons (45 grams) pure maple syrup
1 teaspoon ground cinnamon
1/4 teaspoon fine sea salt
3 cups (270 grams) thick rolled oats
1/2 cup raw walnuts, roughly chopped (optional)
1/4 cup cacao nibs (optional)
DIRECTIONS
Add the bananas to a large mixing bowl and mash with the back of a fork until the mixture resembles purée with a few larger clumps.
Whisk in the coconut oil and walnut butter, followed by the pure maple syrup. Add the cinnamon, salt, and rolled oats and mix (with a spatula or wooden spoon) to combine. Set the mixture aside to allow the oats to soak up a bit of the moisture; about 10 minutes.
Prepare your baking pan by lining the compact broil pan (sans rack) with parchment paper. Once the granola mixture is ready, pour it onto the prepared pan and spread evenly across the pan.
Place the granola on the bottom rack of the KitchenAid® Compact Oven with the temperature set to 325˚ F. Then set the timer to 55-60 minutes. Once the timer reaches 30 minutes, give the granola a gentle toss. And then when it reaches 10 minutes, add the walnuts and cacao nibs, if using.
Allow the granola to cool on the baking pan then transfer to a container. You'll want to avoid using an airtight container otherwise the granola will soften and be more chewy than crunchy (which isn't necessarily a bad thing, but is something you should know).
I love eating this granola straight from the jar, but also love pairing it with yogurt and fresh fruit from the farmers market.
Print
*The Contributor of this post has been compensated by KitchenAid for this post, but this post represents the Contributor's own opinion.*