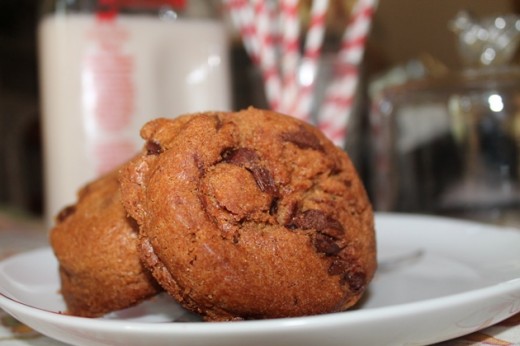 My great grandmother, grandmother and mother are amazing bakers, with my great grandmother having won a Betty Crocker bake-off for her Swedish Tea Ring.  So clearly it runs in my genetics, but would it skip a generation with me?  Luckily it has not and I had the opportunity to learn from all three of these amazing women from the time I could utter a few words and help in the kitchen.
Understanding the basics of baking is important.  It's about exact measurements and understanding the chemistry behind the ingredients used.  Add gluten-free baking to the mix, one must learn a whole new set of skills and be prepared to experiment in order to achieve the same results or better.
That's where I come in!  I'm here to share a few tips and tricks I've learned along the way to make gluten-free baking easier for you.  You will be a gluten-free domestic goddess in the kitchen with the holiday's approaching – Watch out Martha Stewart and Nigella Lawson!
Eggs:
Eggs are a magical ingredient.  Especially farm fresh eggs if you can get them!  Saturday mornings I make a trip to the Austin Downtown Farmers Market run by the Sustainable Food Center to pick up egg's from local farmers here in Austin.
Why are these oddly shaped beauties so magical?  No part goes to waste!  Most recipes call for the whole egg, but the beauty is you can add volume to a recipe be separating out the egg whites and whipping them until they become stiff and add them into the batter.  Depending on what I'm baking, I will allow egg whites to come to room temperature, as you get more volume out of them (good for baking breads, cakes, and pastries that you want to rise).  Check out my recipe for Gluten-Free Ricotta Pancakes  where I put this trick to work.
Science and eggs, really? Another great trick is adding baking soda to the eggs before incorporating them into the recipe.  The baking soda creates a natural chemical reaction when added to the eggs, reacting with fatty acid in the yolks, releasing carbon dioxide, which causes expansion of the batter.
Butter:
I always use good butter in my baking, no substitutes – never.  You and your guests will taste the difference!  Earlier this year I learned a new trick from Christina Tosi of Momofuku Milk Bar at the Food Republic kick-off event leading up to the Austin Food & Wine Festival.  Using your KitchenAid® stand mixer, place butter into the mixing bowl (make sure it's at 65°-70°), add in sugar and beat together on medium-high (depending on your KitchenAid® stand mixer model – I have the KitchenAid® Classic Plus® Series 4.5-Quart Stand Mixer, so I place the speed handle between 6 to 8.  This will help to achieve the best possible cookie, perfectly crisp on the outside with a gooey interior texture that will just melt in your mouth!  I have also found this technique useful in other recipes.
Flour:
There are many gluten-free flours available, as well as pre-made mixes for bread, cookies, cakes, and more.  Some of these are really great, especially if you're in a time crunch.  I, however, like to play with different flour combinations, such as combining an all-purpose gluten-free flour and cassava flour (a bit on the sweet side which is good to use for cookies, cakes, and sweet breads).  Understanding the flavor profiles of flours is important.  I also like to use flour that contains more protein than carbohydrates, as it's a healthier way to bake.  I also don't use any flours that contain xanthan gum as a personal choice.
Here's a flavor profile chart/recommended uses:
All-Purpose Flour

:   I use a mix typically made up of white rice flour, potato start, tapioca starch, guar gum and salt.  This flour mix doesn't really have a taste, as the flours and starches balance each other out.  Good for all baking (cookies, cakes, breads, crackers, pasta)
Almond Flour

:   One of my go-to flours for baking.  Laced with a nutty flavor, almond flour can be used for cookies, cakes, breads and more.  On the mealy side, I always run the measured out almond flour through my KitchenAid® food processor to ensure its ground completely and then sift 2-3 times before adding into a recipe.
Amaranth Flour

: Light brown flour with a nutty taste. Highly nutritious, as it contains high levels of protein.  I use this in combination with All-Purpose Flour and/or Cassava Flour for cookies, cakes, pastries, and breads.
Cassava Flour

:   Lending to the sweet side and predominately a carbohydrate with a low protein levels.  I like to use a combination of Cassava and All-Purpose Flour when baking, as it provides a lovely yield on cookies and breads (pound cake, angel food cake).
Chestnut Flour

: Sweet tasting flour with a slightly nutty flavor.  I tend to use this flour in heavier type sweet breads like pound cake in combination with almond and coconut flours.
Chick Pea (or Chechi Bean)

: Very high in protein, this flour is well suited for Asian cooking, as well as for breads such as Naan.  I use in recipes for dumplings, gluten-free noodles, and as a coating when deep frying foods.
Coconut Flour

: Flour contains 61% fiber, is a good protein source and low in carbohydrates. Mild in flavor, coconut flour can be used in recipes for cookies, cakes, breads, and pastries in combination with other flours such as almond, chestnut or all-purpose flour.
Corn Flour & Corn Meal

:  Depends on the type of corn used.  I only use non-GMO corn flour, corn meal, grits and corn starch.  I solely use corn flour and corn meal to make corn bread, tortillas, and sopes (corn flour comes in white, yellow and blue).
Glutinous Rice Flour

:  Sticky when wet, but sweet when made into a flour.  ¼ Cup contains 3g of protein and 40g of carbohydrates.  This flour works well in sweet pastries and cookies.
Oats

:  I use only gluten-free certified oats and in their original form for such recipes as Oatmeal Chocolate Chip Cookies and Missouri Muds.
A great trick I learned when the recipe calls for pastry, nut-based or cake flours is to measure out and sift 4-5 times.  Next, measure out sifted flour when adding into recipe, as it produces a much smoother texture.
Here is a list of flours and pre-mixed gluten-free flours I use from time to time when in a pinch:
Blackbird Bakery:  Pie Crust, Puff Pastry & Choux Pastry Blend (Karen's products also don't contain xanthan gum)
Having the listed KitchenAid® appliances will make your life easier in the kitchen and help you achieve "Domestic Goddess" status, being able to whip up gluten-free recipes with ease and confidence!
Serve up this classic cookie just out of the oven with a glass of vanilla almond milk or even better yet, put a scoop of salted caramel ice cream in between two cookies, making yourself an old fashion ice cream cookie sandwich!
Chocolate Chip Cookies
INGREDIENTS
2 1/2 sticks of butter
1 1/8 cup granulated sugar
1 1/4 cup brown sugar (can use light brown sugar or substitute with palm sugar)
2 large eggs (farm fresh preferably)
1 1/4 teaspoon baking soda
2 teaspoons natural vanilla (I prefer to use Madagascar Vanilla as it has a richer flavor)
2 cups All-Purpose Gluten-Free Flour
1 2/3 cup Gluten-Free Cassava Flour
1 1/2 teaspoon baking powder
1 1/2 teaspoon salt (I prefer to use Kosher salt)
1 1/4 pound bittersweet chocolate chips (use chips that are 60%-70% cacao for a richer taste)
1 bag of semi sweet chocolate chips
DIRECTIONS
Crack eggs into a separate bowl and sprinkle baking soda on top of eggs, set aside for 10 minutes.  This will allow the fatty acids to interact with the baking soda creating bubbles on the surface.
Sift flours, baking powder and salt 3-4 times and place into a separate bowl to be added into mixture later.
Place room temperature butter in KitchenAid® stand mixer and begin creaming for 2-3 minutes, utilizing the flat beater attachment on medium speed.  Next add in sugar(s) and cream mixture for 6-8 minutes on medium-high.  The volume of butter and sugar will increase as air is being whipped into the mixture.  Slowly add in eggs and baking soda mixture one egg at a time, so as to fully incorporate into the butter and sugar mixture.  Add in vanilla, making sure it's mixed in completely before adding in dry ingredients.
Reducing speed on KitchenAid® stand mixer, add in dry ingredients into the batter.  Add in chocolate chips and mix on low without breaking the chips as mixing.
Tip: You can also purchase bittersweet chocolate in bar form and chop it into large chunks.  Peanut butter and chocolate more your thing? Add in 1/4 cup (4 tablespoons) of peanut butter.  This will keep the gluten-free cookies really moist and delicious (this is one of my favorite combinations).
Turn off stand mixer and place batter onto plastic wrap and form into a tube shape.  Make sure to completely seal the cookie batter and refrigerate for at least 2 hours.  Cookie batter can be refrigerated for 24 hours to achieve optimal shape on cookies.
Tip: Refrigerating the cookie batter allows the ingredients to fully incorporate and settle, resulting in cookies that don't spread as much.
To bake, pre-heat oven to 375°.  Using a 1" cookie scoop, place cookies in alternating rows (1st row three (3) cookies; 2nd row two (2) cookies) onto a Silpat mat.
Bake at 375° for 5 minutes and then drop oven temperature to 350° for 10 minutes, baking for a total of 15 minutes.
Tip: If you want a crispier cookie, you can bake 1-2 minutes longer, but cookies tend to dry out quicker being gluten-free when baking past 15 minute mark.
Print
A classic Italian treat, this recipe is easy to whip up, fun to serve at parties and yes can be made gluten-free! Stack on a plate and dust with powdered sugar or dip in chocolate, serving with berry coulis.  Perfect for any time of year!
Zeppoles
INGREDIENTS
1 stick of butter (I use Kerrygold Irish Butter or fresh butter from the Farmers Market)
1/2 cup sugar (sometimes I use ½ brown sugar and ½ granulated sugar for a richer taste)
1/4 teaspoon salt (Kosher)
1 cup water
1 tablespoon vanilla (I use Madagascar Vanilla or a vanilla bean)
1 cup of all-purpose gluten-free flour (I use Gluten-Free Pantry Mix for this recipe)
1/4 cup ricotta cheese
1 teaspoon of cinnamon
4 eggs
Olive Oil
DIRECTIONS
Sift flour and cinnamon together 3-4 times and set aside.  In a medium saucepan add in butter, salt, sugar, and water, bringing to a boil.
Tip: I prefer to use a saucepan with a cooper bottom as the heat conduction is better
Add in flour/ cinnamon mixture, remove from heat, working mixture together until the flour is fully incorporated and a dough ball begins to form.
Let cool for 2-4 minutes, add in eggs one at a time.  This can be done using a KitchenAid® stand mixer or hand mixer on low speed.  Make sure each egg is fully incorporated before adding remaining eggs.  Once all eggs have been added, add in vanilla.  Lastly, add in 1/4 cup of ricotta cheese.  With ingredients fully incorporated, the mixture should have a smooth consistency.
Heat olive oil to 350° and once oil has reached proper temperature, using a 1" cooking scoop, drop Zeppole batter into cooking oil (fill pot approximately 3" deep with olive oil).  Allow to cook until golden brown, approximately 3-5 minutes.  Test one first to determine the perfect timing.
Tip: I was using an electric range so a gas range may differ on timing.  The inside of the Zeppole should be light and airy with a smooth texture.
Print
*The Contributor of this post has been compensated by KitchenAid for this post, but this post represents the Contributor's own opinion.*