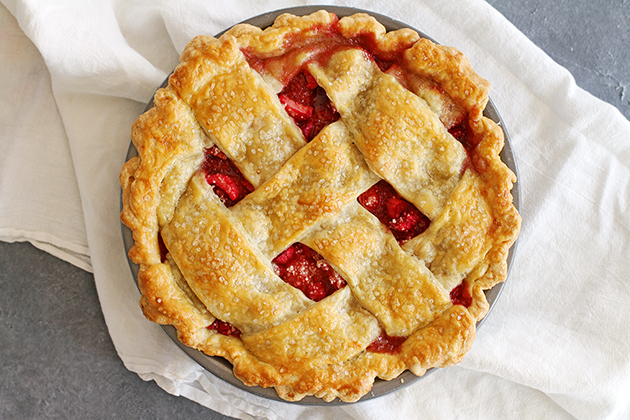 When it comes to pie, there are so many different flavors and textures that pair perfectly with a flaky crust. But like any other baked good, there are a few steps and ingredients that can make or break the perfect pie. With the KitchenAid® Professional-Grade Nonstick 9" Pie Pan and 13-Cup Food Processor with ExactSlice™ System, you're already halfway to baking your best-ever pie.
One of my favorite pies to bake at the start of springtime is this Strawberry Rhubarb Pie. Pie-friendly fruits are just starting to come back into season, and I love the combination of sweet strawberries and tart rhubarb between two layers of flaky, all-butter pie crust. It's such a simple pie to put together, too!
To start, make your double-crust dough. I love to use my KitchenAid® 13-Cup Food Processor to make this task simple and easy. Pulse flour, sugar and salt until combined, then pulse in very cold, cubed butter until the mixture resembles coarse crumbs and the butter is about the size of small peas. With the Food Processor running on low, slowly pour ice cold water through the feed tube just until a dough forms in the work bowl.
Divide the dough in half, then shape each half into a disk. Tightly cover each disk with plastic wrap and chill them in the fridge for a couple of hours so the ingredients meld together and the butter stays cold. It's important for the butter to remain cold so the crust can have marbled bits of butter throughout, ensuring a flaky crust once baked.
Once the dough is fully chilled, roll one disk on a well-floured surface to a 12-inch circle. Transfer the dough to your KitchenAid® Pie Pan.
One thing to note is that it's important to not overwork the pie dough when rolling it out and shaping it. The more you play with the dough, the warmer it becomes and the more likely it will shrink while baking, pulling the edges of the crust in toward the center. If the dough becomes too warm while you're working with it, just transfer everything to the fridge for a few minutes to chill.
In a large bowl, combine the ingredients for the filling – strawberries, rhubarb, lemon juice, sugar, salt and tapioca, which is an ingredient that will help the filling gel up so it isn't too runny when you cut into your pie. Mound the filling into the Pie Pan.
Roll out the second disk of dough, then cut it into wide strips if you want to create a lattice-top pie. Form the lattice top according to the directions in the recipe below. Or, leave the dough intact in one large round, and drape it over the pie filling. Fold over the edges of pie crust and use your fingers and thumb (or fork tines) to crimp decoratively. Be sure to poke the top of the pie crust a few times with a fork or a knife so the pie can "breathe" as it bakes.
When you're ready to bake, brush the top of the pie with egg wash and sprinkle the top lightly with sparkling sugar, for extra texture and visual appeal. Place the pie pan on a rimmed baking sheet to catch any spills, and bake until the crust is a deep golden brown and the filling is bubbling.
It's best to wait until the pie is fully cooled before slicing to avoid any extra-juicy, messy slices of pie. Though really, I wouldn't blame you if you couldn't wait that long. The smell alone of this pie fresh out of the oven is tantalizing.
With a few extra tips and tricks up your sleeve, baking a delicious and beautiful homemade pie is very easy. Be sure to share your take on this Strawberry Rhubarb Pie recipe with us on Instagram using #MadeWithKitchenAid for a chance to be featured.
Strawberry Rhubarb Pie
Makes 8 servings servings (one 9-inch pie)
INGREDIENTS
For the dough
2 1/2 cups all-purpose flour
1 tablespoon granulated sugar
1 teaspoon salt
2 sticks (8 ounces) cold unsalted butter, cut into small cubes
1 cup ice water
For the filling
3 1/2 cups chopped fresh rhubarb
3 1/2 cups hulled and quartered fresh strawberries
1/2 cup granulated sugar
1/4 cup packed brown sugar
1 tablespoon lemon juice
1/4 teaspoon salt
1/4 cup instant or quick-cooking tapioca
1 egg, beaten (for egg wash)
Sparkling sugar, for topping (optional)
DIRECTIONS
In bowl of the KitchenAid® 13-Cup Food Processor with ExactSlice™ System, pulse flour, sugar and salt to combine. Add cubed butter and pulse until mixture resembles coarse crumbs and butter is roughly size of peas.
With Food Processor running on low, slowly pour in just enough ice water through feed tube until dough forms. Remove dough from food processor. Divide dough in half, and shape each half into disk. Tightly wrap each disk in plastic wrap and chill in fridge 1 to 2 hours.
Heat oven to 400°F. On well-floured surface, roll one dough disk into 12-inch circle. Transfer to theKitchenAid® Professional-Grade Nonstick 9" Pie Pan.
In large bowl, stir rhubarb, strawberries, sugars, lemon juice, salt and tapioca until combined. Pour into Pie Pan, mounding in center.
On well-floured surface, roll out remaining dough disk to 11-inch circle. Cut into 2-inch-wide strips (or thinner, depending on preference).
Lay half of strips on top of pie, spaced evenly apart and longer strips placed near center. Fold every other strip halfway over itself. Lay one of remaining strips perpendicular to other strips, snug against folded edge of strips on pie. Unfold strips over perpendicular strip. Fold strips laying under perpendicular strip back over top. Lay another remaining strip of dough over pie, snug against folded edges of strips. Continue swapping folded and unfolded strips and adding one new perpendicular strip each time until lattice pattern forms.
Gently press edges of pie crust together and fold underneath. Use fingers and thumb to decoratively crimp edges of pie.
Brush pie crust with egg wash, then sprinkle with sugar, if desired.
Place Pie Pan on rimmed baking sheet in center of oven. Bake 20 minutes, then reduce oven temperature to 350°F. Bake another 30 to 35 minutes until crust is golden brown and filling is bubbling.
Cool pie completely on cooling rack before slicing.
Print
*The Contributor of this post has been compensated by KitchenAid for this post, but this post represents the Contributor's own opinion.*