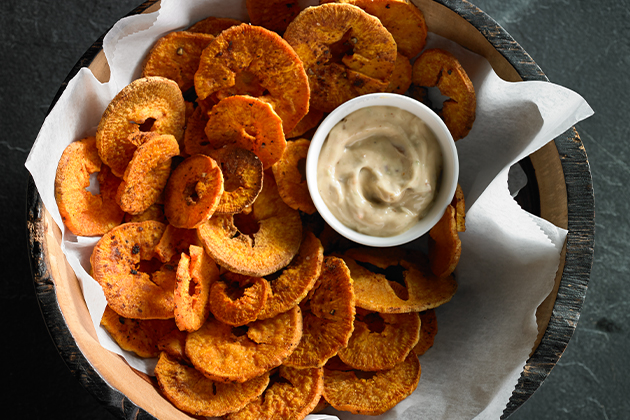 Baked Sweet Potato Chips with Chipotle Lime Aioli
Makes 2 servings
INGREDIENTS
2 medium sweet potatoes (6 inches x 2 inches)
3 tablespoons oil, divided (safflower or canola)
1/2 teaspoon ground cumin
1⁄8 teaspoon chipotle chili powder
1/2 teaspoon kosher salt
1/4 teaspoon pepper
For chipotle lime aioli
1 cup light mayonnaise
2 1/2 teaspoons minced chipotles in adobo
Zest of 1/2 lime
1 tablespoon lime juice
DIRECTIONS
Preheat oven to 400°F.
Attach Spiralizer Attachment to your KitchenAid® Stand Mixer. Trim ends of sweet potatoes. Center one sweet potato section on fruit and vegetable skewer; attach to Spiralizer. Attach peeling blade and small core spiral slice blade and position at end of sweet potato. Place bowl below blade to catch sliced sweet potato. Turn stand mixer to speed 4 and process until blade reaches end of sweet potato. Repeat with remaining sweet potato sections. Place sliced sweet potatoes on end. Cut spirals into individual rounds by cutting through one side of the spiral.
Soak potatoes in a bowl of cold water for 1 hour to remove some starch. Drain bowl. Rinse the sweet potato rounds and spread onto a clean kitchen towel. Pat tops dry.
Prepare 2 large baking sheets with 1 teaspoon of oil each. Spread oil around sheet with paper towel. Place baking sheets in oven to preheat.
Combine cumin, chili powder, salt and pepper in small bowl. Set aside. Place potato rounds in a large bowl. Drizzle potatoes with 2 tablespoons oil and sprinkle with spice mixture. Toss to coat evenly. Remove 1 preheated baking sheet from oven and arrange half of potato rounds in a single layer. Return pan to oven. Repeat with the other baking sheet.
Bake for 10 minutes, rotating pans once while cooking. Remove from oven and use spatula to flip all chips. Bake for another 8 to 10 minutes, rotating pans once while cooking. Remove from oven when potatoes are well browned.
While potatoes are baking, combine aioli ingredients in a small bowl. Refrigerate until ready to use. Serve chips with aioli.

Print
*The Contributor of this post has been compensated by KitchenAid for this post, but this post represents the Contributor's own opinion.*