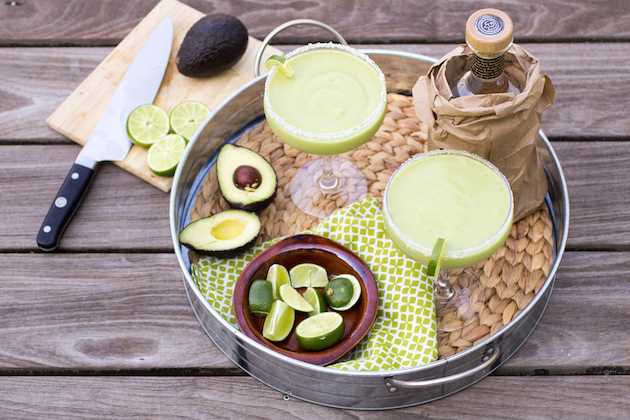 As the weather warms up, it's time to invite a few friends over and head out to the patio. I love blended cocktails in the summertime, but I'm not a fan of overly sweet drinks. I've started making Avocado Margaritas because they are every bit as rich as a piña colada, but without all of the guilt!
They are very unexpected, especially with the jalapeño kick lingering beneath all of that creamy avocado. To start, wet the rim of four serving glasses with the cut side of a piece of lime. Invert the glasses onto a shallow plate full of kosher salt. Give the glasses a good wiggle to make sure they are nicely rimmed, then set them aside.
In the pitcher of your KitchenAid® Torrent™ Magnetic Drive Blender, add the fruit from two avocados, juice from two large limes, one jalapeño pepper, and a few tablespoons of agave nectar.
Top it off with orange-flavored liqueur (such as Cointreau or triple sec), blanco tequila (using a clear colored liquor prevents the discoloration of the beautiful avocados), and plenty of ice.
Use the Adapti-Blend™ icy drinks/smoothies program on the Blender to auto-magically whip up perfectly creamy and decadent margaritas. My favorite part of this blender is the Adapti-Blend™ preset programs. The blender takes care of all the work and even stops by itself so I can focus on entertaining my guests instead of being stuck in the kitchen.
Pour the avocado margaritas into your prepared glasses and garnish with a lime wedge. Load the drinks up on a tray lined with a bold-patterned linen and head on out to the patio. Your guests will love this fresh twist on an old classic!
Be sure to share your take on this Avocado Margaritas recipe with us on Instagram using #MadeWithKitchenAid for a chance to be featured.
Avocado Margaritas
Makes 4 servings
INGREDIENTS
1 tablespoon kosher salt
4 lime wedges
2 avocados, halved, pitted, and peeled
3 ounces freshly squeezed lime juice
1 jalapeño, stemmed and deseeded
2 tablespoons agave nectar
4 ounces Cointreau (or triple sec)
8 ounces blanco tequila
DIRECTIONS
Place the kosher salt on a shallow plate. Rub the rims of four serving glasses with a cut lime. One at a time, invert the glasses onto the shallow plate and wiggle back and forth to coat the rims evenly in salt.
Place the avocados, lime juice, agave, Cointreau, jalapeño, and tequila into the pitcher of your KitchenAid® Torrent™ Magnetic Drive Blender. Top with ice (about 3 cups) and secure the lid.
Insert the pitcher securely into the Blender's base. Blend the mixture by selecting the Adapti-Blend™ icy drinks/smoothies program.
Divide the blended margaritas into the four prepared serving glasses. Garnish with lime wedges and serve.
Print
*The Contributor of this post has been compensated by KitchenAid for this post, but this post represents the Contributor's own opinion.*