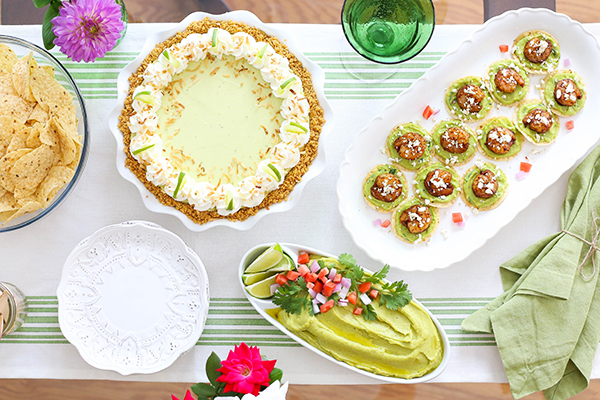 Today is all about guacamole and avocados! To celebrate National Guacamole Day, I've got some fun ideas for you to put together a fun fiesta with Avocado Hummus as the star of the show.
Now that I'm a lover of all things guacamole, it makes appearances in all meals of the day – on toast for breakfast, in hummus for a snack and in tacos for dinner.
With today being National Guacamole Day, I thought it'd be fun to throw a fiesta in its honor and showcase avocado in various ways. On my menu today is Avocado Hummus (recipe below), Spicy Shrimp Guacamole Bites, and for dessert, an Avocado Key Lime Pie. A little bit of guacamole and a whole lot of avocado for a party line up that is sure to impress and satisfy!
Let's start with the Avocado Hummus. It's so easy to make, there's really no excuse not to. You'll need your KitchenAid® Pro Line® Series Blender, which has basically become my favorite Blender ever. Its powerful motor seriously blends through everything! It makes assembling this hummus a breeze.
Add the chick peas, avocados, olive oil, lime juice, garlic and tahini into your Blender.
Turn your Blender onto your preferred setting. This Blender has 3 Pre-Set Adapti-Blend™ Programs for soup, smoothies and juice, but for this hummus recipe I used the Variable Speed Dial and set it to 10. Blend everything until smooth.
Once everything is smooth and ready to go, pour the avocado hummus into a serving dish and garnish it with a little olive oil and some tomato, onion and cilantro. Delish!
As I mentioned above, I paired this recipe with a delicious Avocado Key Lime Pie and Spicy Shrimp Guacamole Bites. All are fun ways to feature avocado for National Guacamole Day. For the party set up, I continued with the avocado theme and carried green into the table décor. A cute table runner, some green napkins, green mason jars with flowers and green drink glasses complete the fiesta and will have you eating in style!
For some other fun ways to incorporate avocado, check out these other great recipe ideas:
Avocado Chocolate Chip Cookies
Happy National Guacamole Day!
Share your take on this Avocado Hummus recipe on Instagram using #MadeWithKitchenAid for a chance to be featured.
Avocado Hummus
Makes 6-8 servings
INGREDIENTS
1 (16 oz) can chickpeas
2 avocados, cored and peeled
1/4 cup olive oil
1/4 cup lime juice
1/2 teaspoon minced garlic
3 tablespoons tahini
Salt, to taste
Pepper, to taste
Tomato, chopped, for garnish
Onion, chopped, for garnish
Cilantro, for garnish
DIRECTIONS
Drain the liquid from the can of chickpeas, reserving it for later.
Add the chickpeas, avocados, olive oil, lime juice, garlic and tahini to the KitchenAid® Pro Line® Series Blender. Set the Variable Speed Dial to 10 and process until smooth. Add some of the reserved chickpea juice to the mixture by the tablespoon, if needed to thin out the mixture. Add salt and pepper to taste.
Pour the hummus into a serving dish and drizzle with some additional olive oil. Then garnish it with tomato, onion and cilantro. Store the hummus in the refrigerator until it's time to serve it.

Print
*The Contributor of this post has been compensated by KitchenAid for this post, but this post represents the Contributor's own opinion.*