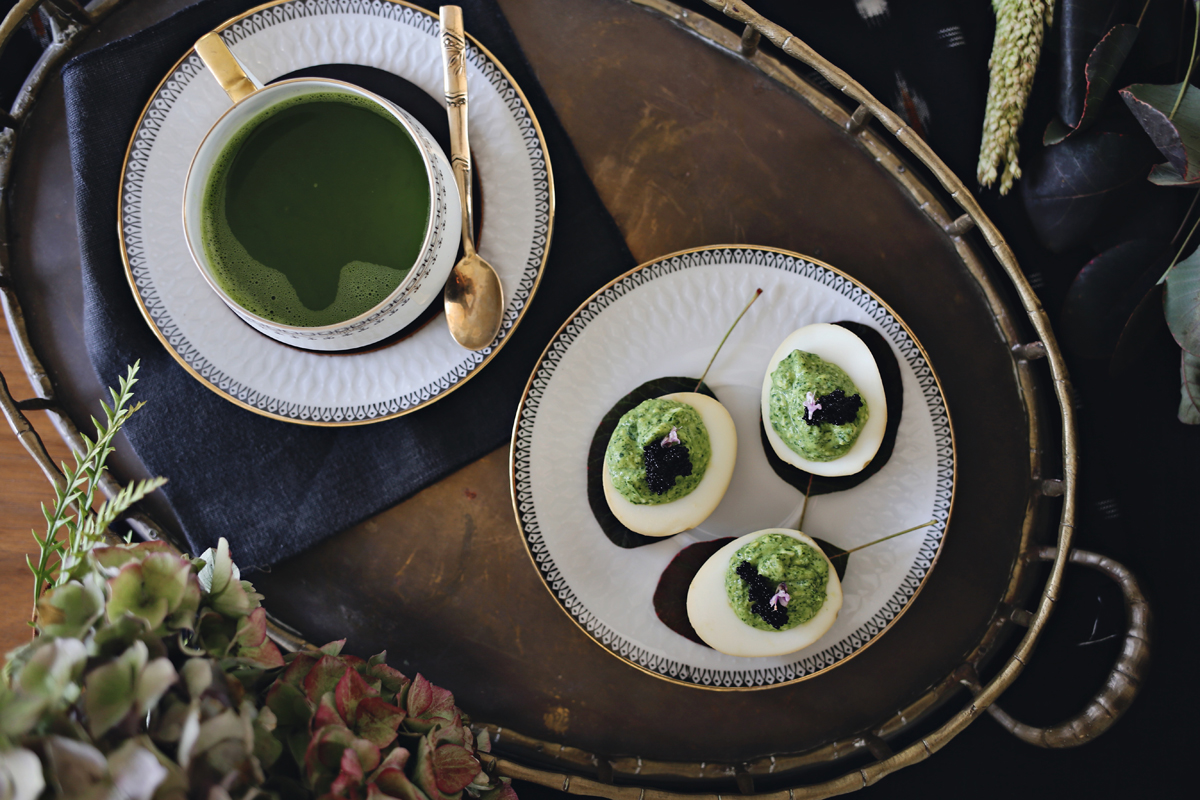 There's something about the arrival of Autumn that makes us all want to immediately jump into the spirit of the season – cooler nights, cozier get-togethers, holiday preparations… trying to wear that new sweater regardless of it still being too hot out! It's true, not all parts of the country are quite feeling like fall, but the enthusiasm is still there and we want to celebrate by throwing a tea party for friends.
Tea parties are one of the ultimate ways to express your personal style as a host. You can go all-out fancy with the heirloom china sets and little finger foods or create an unexpected experience by focusing on moody textures. We chose the latter, using matcha green tea as the star (and inspiration!) for our table's color story. And yes, you better believe we're not only drinking matcha — we're eating it too — with infused deviled eggs filled with a matcha-spiked pesto.
In Japanese culture, matcha green tea is much more than a drink – it's a ceremony that has been part of the culture for centuries. It's a wonderful tradition to embrace as a way of slowing down and taking care to prepare something special for your guests. One of the most important things to take into consideration is water temperature while preparing your tea. Matcha is best when prepared with water around 175°F.
But there's no need to stress when you've got a KitchenAid® Pro Line® Series Electric Kettle in your tea-making arsenal! By simply setting your water temperature between 70-80°C and pressing the on button, you are quickly on your way to the perfect temperature for rich, frothy matcha in minutes. In fact, you could have your tea party anywhere — no need to feel restricted to preparing in the kitchen — that is, as long as there is a power outlet nearby.
Matcha has a wonderful earthy flavor with a smooth, slightly sweet finish, which feels like the perfect pairing for fall. With this particular recipe, you need to prep the day before, leaving us with more time to start plotting the table decor. Our unique tea party deserves bold accents and an element of whimsy to match the flavors, which is easy to achieve in just four effortless steps.
1. Don't worry about being so matchy-matchy.
Have a collection of small teaspoons and vintage china that isn't a full set? Perfect! As long as you keep finishes similar, the mix and match of patterns adds to the whimsy of the scene. I particularly like to use flatware with different handles but all in the same color palette as a fun, unexpected detail.
2. Forget the blooms and head straight for the filler.
While florals are a very colorful way to express a statement, why not look into some earthy and unique textural elements that come along with the green arrangement accents? They are less pricey than most blooms and the perfect way to express the matcha color story on your tabletop.
3. Make it a high tea… Literally.
Don't feel pressured to make an army of snacks. Bring out a three-tiered stand and showcase your small bites with pride as a statement piece. Your botanicals will be the perfect way to help support the scene by turning this stand into a focal arrangement.
4. Relax and let the layering happen.
Don't pull out the good napkins or porcelain trays. This tea party is a rebel, so we're accenting it with black linens found in the fabric store's bargain bin and vintage brass pieces that help the china look less precious. By layering natural elements such as leather coasters underneath china cups, you can instantly create a warmer autumnal scene that is equal parts eclectic and elegant.
Share your take on these Matcha Deviled Eggs on Instagram using #MadeWithKitchenAid for a chance to be featured.
Matcha Deviled Eggs
Makes 4-6 servings
INGREDIENTS
4 eggs
2 teaspoons matcha powder, for steeping the boiled eggs
Water
2 tablespoons mustard
1 handful fresh spinach
1/3 cup grated parmesan
Caviar (or any black roe)
Basil blooms for garnish
DIRECTIONS
Bring the water to approximately 175° F by setting your KitchenAid® Pro Line® Series Electric Kettle between 70-80° C. In a small bowl prepare 2 teaspoons of fine matcha powder, adding 2-3 ounces of hot water on top and stirring quickly with a bamboo whisk until frothy. Add another 1/3 cup of water and set aside to fully cool.
In a steamer basket, bring water to boil and steam eggs for 15 minutes. Remove and place in cold water until cooled. To easily remove shells from hard boiled eggs, place an egg into a pint glass filled 1/3 with water. Place your hand on top of the glass as a lid and shake vigorously. The shell should come off easily.
Once the matcha has cooled, pour into a sealable container and add the hard boiled eggs. Let the eggs infuse in the tea for at least 24 hours.
Cut infused hard boiled eggs in halves and scoop out yolks and set aside the whites. In a small food processor, combine the yolks, mustard, Parmesan and 3 tablespoons of reserved matcha tea. Pulse until smooth, then add to a pastry bag or plastic bag with the corner cut off and pipe back into hard boiled egg.
Top with caviar and basil blooms to balance out the matcha earthiness with a pinch of salt and floral bust. These bites are best served after being assembled and stored in the refrigerator for 15-30 minutes to hold their shape. Don't forget to start up the Pro Line® Series Electric Kettle to serve with a freshly whisked cup of hot matcha tea… and champagne while you're at it!

Print
*The Contributor of this post has been compensated by KitchenAid for this post, but this post represents the Contributor's own opinion.*