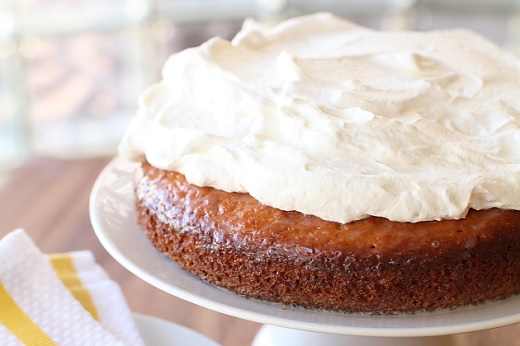 Tres leches cakes are the perfect year-round desert, and this apple-flavored version is no exception. Made with cinnamon and fresh fruit juice, then generously topped with whipped cream, this modern take on a classic three milks cake will make a lovely addition to your autumn dessert table. These are one of my favorite dessert indulgences, but for all their deliciousness I think there are several misconceptions about them.
First, tres leches cakes are not designed to be soggy. True, they consist of a conventional sponge cake soaked in a luscious three milks mixture. The soak locks just the right amount of moisture into the sponge and keeps it there, which is why tres leches cakes are a perfect make-ahead dessert.
Second, tres leches cakes are meant to be served chilled, which is another reason why that extra moisture from the soak is so important! Think cheesecake, pudding cake, or even a soufflé. Nothing soggy here, just dense, rich deliciousness.
Finally, although tres leches cakes are served cold, they make a lovely addition to your dessert table at any time of the year. I find that tres leches cakes serve as a wonderful, sweet finale to a Thanksgiving feast, when a cool slice of cream-topped cake can perfectly compliment the hot savory courses that came before.
So let's get started!
My KitchenAid® Stand Mixer is the perfect tool for preparing a tres leches cake from start to finish. Whether it's using the flat beater attachment to prepare a smooth sponge cake batter, or using the whisk attachment to whip fresh heavy cream, my KitchenAid® Stand Mixer makes easy work out of preparing one of my favorite desserts.
I start out by using my stand mixer to prepare a smooth, silky sponge batter. The mixer's flat beater attachment works perfectly here.
The batter pours easily into a parchment-lined springform pan. I love baking tres leches cakes in springform-style pans because the cakes release easily and, as you will see, leaving the cake on a sturdy base while it soaks is extremely helpful.
While the cake is baking, I whisk my tres leches soak together. The soak doesn't have too many components to it, but you want the mixture to be as smooth and uniform as possible. I've added some fresh apple juice to this soak for a taste of autumn!
Once I have unmolded my cake, I use a wooden skewer to poke holes into the top; the holes really allow the soak to absorb deep into the sponge. I then set the cake, still on the springform base, onto a rimmed baking sheet and slowly pour the soak over top.
As I'm gradually applying the soak to the cake, I take the time to whip my cream. Freshly whipped heavy cream does a lovely job of covering up those poked holes, and my whisk attachment does a lovely job of making easy work of whipping fresh cream. I will chill my whisk attachment first and also attach my pouring shield to keep the cream from going everywhere.
Finish your cake by simply removing the springform bottom, spreading your freshly whipped cream over top, and refrigerating until chilled through. Final step:  see if you can stop at just one piece!
So now you know the process for preparing a tres leches cake! I recommend mixing up your fall dessert offerings by serving this autumnal take on the classic. Don't skimp on the heavy cream topping, and whatever you do, be prepared for requests for seconds. Maybe even thirds. Enjoy!
Autumn Apple Tres Leches Cake
Makes 10 servings
INGREDIENTS
For the cake
1 1/2 cups all-purpose flour
1 tablespoon baking powder
1/2 teaspoon ground cinnamon
1 cup granulated white sugar
3 large eggs
1 teaspoon vanilla extract
3/4 cup whole milk
2 tablespoons honey
1 1/2 cups heavy cream, chilled, to finish
For the soak
1- 14 oz. can sweetened, condensed milk
1- 12 fl. oz. can evaporated milk
1/2 cup whole milk
1 cup fresh apple juice
Tip: I recommend using a natural, high quality juice here. You'll notice the difference.
DIRECTIONS
To prepare the cake, preheat the oven to 350°.
Place your stand mixer's whisk attachment into the freezer to chill.
Whisk the flour, baking powder and cinnamon together in a small bowl. Place the sugar, eggs and vanilla extract into the bowl of your stand mixer and mix using your flat beater attachment until blended. With your mixer still running on a low speed, beat in the dry ingredients alternating with the milk and honey, beating just until you have a uniform cake batter.
Line a 9″ springform pan with parchment paper and pour the batter into the prepared pan. Bake for 35-40 minutes – the top of the finished cake will be a deep golden brown and will spring back when touched lightly with your bare finger. Remove the baked cake and set aside to cool.
Meanwhile, prepare your soak in a large bowl by whisking all of the ingredients together until well blended. Once the cake has cooled, run a knife around the circumference of the cake to release its edges. Unmold the cake, leaving it on the springform base, and place it on a rimmed baking sheet. Using a thick skewer, poke a series of holes into the top of the cake. Slowly pour the whisked soak over the top of the cake and then set the cake aside to allow it to absorb as much of the soak as possible.
As the cake continues to cool and absorb the soak, place the chilled cream in the bowl of your stand mixer, affix the chilled whisk attachment, and whip on high speed until stiff peaks form. Remove cake from soak and springform base, taking care to also peel off the parchment liner, place on your serving base, and top generously with whipped cream. Refrigerate until chilled through, slice and serve.

Print
*The Contributor of this post has been compensated by KitchenAid for this post, but this post represents the Contributor's own opinion.*