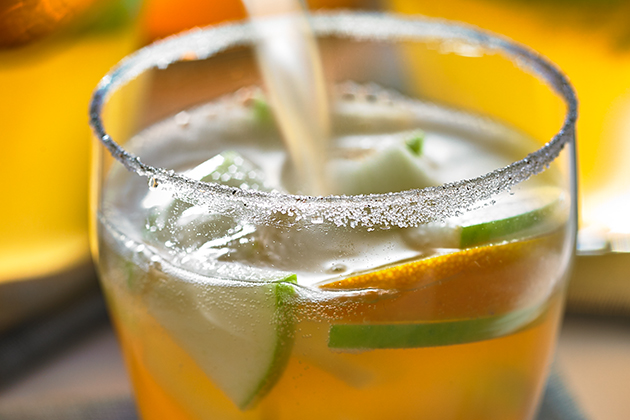 Autumn Apple Sangria
Makes 6 12-ounce servings
INGREDIENTS
4 cups apple cider
3 cinnamon sticks
1 tablespoon cloves
Peel from 1/2 orange
1 firm apple
1 bottle (750 ml) pinot grigio wine
1 cup spiced rum
24 ounces ginger beer
For garnish (optional)
Cinnamon sugar
Orange slices
DIRECTIONS
Combine apple cider, cinnamon sticks, cloves and orange zest in a 2-quart saucepan and simmer over medium heat until reduced by a third, about 20 minutes. Strain and allow to cool.
Attach the Spiralizer Attachment to the KitchenAid® Stand Mixer. Center apple on fruit and vegetable skewer; attach to Spiralizer. Attach large core slicing blade and position at end of apple. Turn stand mixer to speed 6 and process until blade reaches end of apple. Cut the sliced apple into eighths and add to large 3-quart pitcher. Add wine and rum, stir in cooled cider mixture. Refrigerate for 4 to 48 hours.
Serve in 14-ounce glasses. If desired, rub rims of glasses with an orange wedge and dip into cinnamon sugar. Fill each glass with 8-ounces of sangria/apples. Top each with 4-ounces of ginger beer. Garnish with orange slices.

Print
*The Contributor of this post has been compensated by KitchenAid for this post, but this post represents the Contributor's own opinion.*