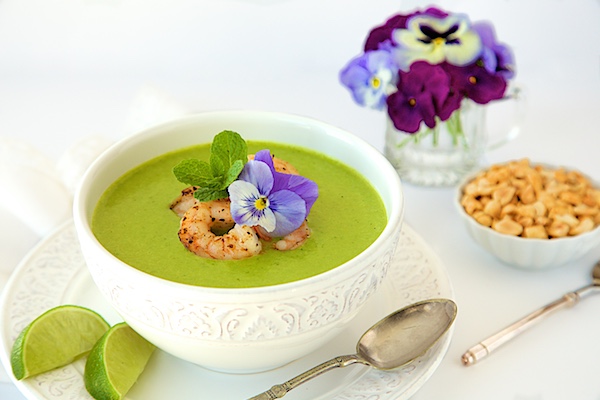 Hello asparagus! Hello spring! Each year, when I begin to see market displays mounded high with lovely green asparagus stalks, I'm encouraged that warm, sunny days aren't far off, even if cold winds still blow and branches are still bare.
Asparagus, the first darling of the spring produce parade, is delightful steamed, roasted or sautéed. It pairs well with chicken, beef, pork or seafood as a healthy, fresh side. If that weren't enough, it's also wonderful in salads, soups, quiches, risottos, pasta dishes, omelets, and sandwiches – it's incredibly versatile!
The asparagus season is fleeting though, beginning in late March and running through early May. While it's abundantly available, I love to serve it frequently, and tinker each spring with new ways to enjoy the tender green spears. This year, I decided to take a little inspiration from Thai cuisine and came up with this Asparagus and Shrimp Coconut Curry Soup. I've served it for a delicious light lunch, as well as a beautiful dinner party entree. It would also be great for a weeknight meal, since it's easy to put together, and much of the preparation can be done ahead of time, making it perfect for entertaining – definitely elegant enough for guests. Dress it up or down, depending on your mood or whim.
See how velvety smooth this soup is? I used my KitchenAid® Pro Line® Series Cordless Hand Blender, also know as an immersion or stick blender.
I'm crazy about this cordless wonder. Yes, I said cordless! The hand blender is part of the beautiful KitchenAid® Pro Line® Series, and it works like a dream. It comes with a rechargeable 12V Lithium-Ion battery and five super versatile attachments. This little marvel makes blending, chopping, whisking, shredding, frothing and pureeing a breeze! I love that it has two interchangeable blending arms, (8" and 13"). Having the longer blending arm gives me the ability to blend in deeper pots or pitchers, which is not possible with other hand blenders I've used in the past.
The power of this blender is amazing. On full speed, it chews up spinach, apples, kale, etc. quicker than you can say KitchenAid® Pro Line® Series Cordless Hand Blender. The folks at KitchenAid thought of everything – it comes with a plastic bumper attachment, so you don't scratch your pots or bowls and everything packs up, neat and organized, in its own little storage/carrying case. Like the name says, this blender was designed to last and it's quickly becoming an indispensable work horse in my kitchen!
Want to see how this exceptional blender works? To demonstrate, let me take you through the steps of making my Asparagus and Shrimp Coconut Curry Soup. First, get your ingredients ready. The main characters in this cast are super healthy, including asparagus, spinach and tiny sweet frozen peas. You'll also need chicken broth, coconut milk and a variety of herbs and spices. Just before serving, you'll pan-sear some shrimp, so go ahead and start defrosting them now, if they're frozen.
Begin by sautéing an onion and a splash of coconut oil over medium heat. After a few minutes, add ginger, lemongrass, curry paste, curry powder and cook another 30 seconds. The fragrance will be quite intoxicating. Chicken stock comes next, along with peeled, diced potatoes. Bring it all to a simmer and let the magic begin!
When the potatoes are almost tender, add the asparagus and let it simmer another 10 minutes. This is where the fun comes in.
Add the spinach, peas and coconut milk, then start up your Cordless Hand Blender. I used the high speed with the blending attachment, and my lumpy soup was quickly transformed! It was fun to see the soup become silkier and smoother by the minute.
I love that you don't have to worry about letting the soup cool down before blending.
All that's left is to quickly sauté the shrimp in a bit of hot coconut oil. When you serve it, add scoops of jasmine rice to deep or shallow soup bowls. Pour the beautiful emerald colored soup over or around the rice.
Top it with shrimp and a sprig of mint or cilantro. If you want to be fancy, tuck a little edible flower in the center. Pansies are perfect for this, and easily available this time of year.
So, when you see that display of fresh, beautiful asparagus piled high at the market, be sure to pick up a bunch or two. I think you'll find this delicious, healthy soup to be a winner with young and old alike and the perfect way to say, "Welcome Spring!"
Be sure to share your take on this Asparagus and Shrimp Coconut Curry Soup recipe with us on Instagram using #MadeWithKitchenAid for a chance to be featured.
Asparagus and Shrimp Coconut Curry Soup
Makes 6 servings
INGREDIENTS
For the soup
2 tablespoons coconut oil
1 large onion, roughly chopped
4 cloves garlic, peeled and smashed
1 tablespoon finely grated fresh ginger (or ginger paste*)
1 tablespoon finely chopped fresh lemongrass (or lemongrass paste*)
2 tablespoons green curry paste
1 teaspoon mild curry powder
2 tablespoons sugar
1 teaspoon salt
3 cups low sodium chicken broth, or vegetable broth
2 medium russet potatoes
1 pound asparagus
2 tablespoons fish sauce
2 14-ounce cans light coconut milk
2 cups tiny frozen peas, thawed
2 cups fresh baby spinach
3 cups cooked jasmine rice, more if desired
Mint sprigs
Lime wedges
1/2 cup chopped salted peanuts
For the shrimp
1 tablespoon coconut oil
1 1/2 pounds shrimp, peeled and deveined
Kosher salt
Freshly ground black pepper
DIRECTIONS
Heat the oil in a medium-large pot over medium heat. Add the onion. Sauté for 4-5 minutes or until translucent. Add the garlic, ginger, lemongrass, curry paste, curry powder, sugar and salt and continue to cook, stirring occasionally, for another 30 seconds until fragrant.
Add the broth, potatoes and fish sauce. Bring to a boil, then reduce to a steady simmer and cook, uncovered, for 15 minutes. Add the asparagus and simmer for another 10 minutes. Remove from heat.
Add the coconut milk, thawed peas and fresh spinach. Using the blending attachment, puree the soup with the KitchenAid® Pro Line® Series Cordless Hand Blender on full speed until smooth.
Season the shrimp with kosher salt and freshly ground black pepper. Heat 1 tablespoon of coconut oil in a large sauté pan over medium high heat. Add the shrimp and cook just until lightly golden on underside and beginning to curl. Flip to opposite side and cook for another minute or two until pink and just firm to the touch. Do not overcook.
To serve, divide rice between 6 bowls (about 1/2 cup per bowl). Pour soup over or around rice. Top with shrimp, a sprig of mint and an edible flower, if desired. Serve with lime wedges and chopped, salted peanuts.
Notes:
* Ginger and lemongrass paste are available in the produce section of most larger grocery stores. I keep a tube of both in my freezer. If I don't have fresh ginger and lemongrass, these pastes are the next best thing.
Print
*The Contributor of this post has been compensated by KitchenAid for this post, but this post represents the Contributor's own opinion.*