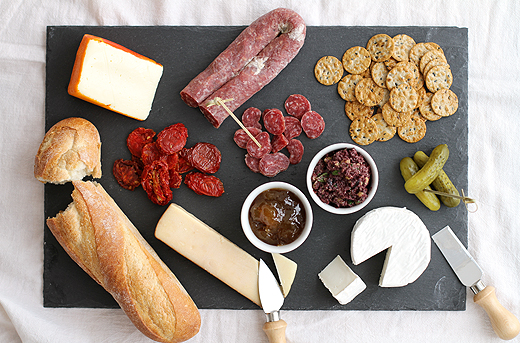 Crafting the perfect cheese plate, though fancy to eat, shouldn't be too fancy or intimidating to assemble. In fact, there's not much of an "art" to it at all – rather, it's a fun way to express your personality through food. But having a few tips and tricks up your sleeve for your next cocktail or dinner party will help give you more time to focus on your company – and less time on the cheese.
To get started, make a plan. Ask yourself: How many people are you serving? Are you serving the cheese plate as an appetizer, dessert or as part of a spread for a cocktail party? How adventurous are your guests' palates? And finally – what kind of accompaniments do you enjoy with cheese?
One of my favorite spreads to serve with a cheese plate is this Kalamata Olive Tapenade. Just a quick whir in my KitchenAid® Diamond Blender and I've got a unique and delicious accompaniment that is flavorful, but mild enough to go with any version of a cheese plate.
To make the tapenade, combine pitted Kalamata olives, a few basil leaves, minced garlic, chopped walnuts and olive oil in your KitchenAid® Diamond Blender.
Turn the KitchenAid® Diamond Blender to the "mix" setting (#3) and blend until the mixture is very finely chopped, adding more olive oil if needed until the tapenade is spreadable. Spoon the tapenade into a serving bowl to add to your cheese plate.
When choosing accompaniments, offer some bread and crackers, spreads like jam and tapenade and a combination of sweet and salty foods, like nuts, olives, figs, grapes, cured meats, dried fruit and marinated vegetables. Don't stress about the spread too much – let your taste buds be your guide.
Here are a few more tips for crafting a delicious cheese plate:
Aim for about 2 to 4 ounces of cheese per person you're serving. If you're serving the plate as an appetizer or dessert, 2 ounces is better; if it's part of a cocktail party spread, 4 ounces is ideal.
Three is a good number for cheese as an appetizer or dessert cheese plates, but you can go up to five or even six cheeses for a cocktail spread. I wouldn't recommend more than that, though, so you don't overwhelm guests with too many choices.
There is no right or wrong method for choosing cheeses, but here are a few avenues for assembling your cheese plate: Choose at least one cheese for each type of milk (cow, goat and sheep) or from different regions (France, Italy, Spain, etc.); Choose different textures of cheese (hard, like Parmigiano-Reggiano; semi-soft, like blue cheese; soft, like goat cheese) and make sure at least one cheese served is familiar to most people (like cheddar, mozzarella, Brie, Parmesan, etc.)
Be sure to use different knives for each cheese so the flavors don't blend.
Label each cheese so you don't spend all evening explaining the cheese plate to everyone who asks.
Serve the cheese (and most of the accompaniments) at room temperature for the fullest flavor. To do so, take the cheese out of the fridge about an hour before guests arrive.
Finally, here are a few yummy cheese combinations to try for your next party:
Boursin, Parmigiano-Reggiano, Maytag Blue
Smoked Gouda, Taleggio, Stilton
Gorgonzola, White cheddar, Herbed Chevre
Camembert, Roquefort, Comte
BellaVitano, Port Salut, Goat's Milk Brie (pictured)
Take these tips to task the next time you entertain with a cheese plate – and remember to have fun with it!
Kalamata Olive Tapenade
Makes 1/2 cup
INGREDIENTS
1/2 cup pitted Kalamata olives
2 tablespoons chopped walnuts
1 to 2 tablespoons olive oil
1 tablespoon fresh basil leaves
1 teaspoon minced garlic
DIRECTIONS
Add the olives, walnuts, 1 tablespoon olive oil, basil and garlic to the KitchenAid® Diamond Blender. Blend on medium speed until very finely chopped. Add more olive oil as needed until the mixture is spreadable.
Print
*The Contributor of this post has been compensated by KitchenAid for this post, but this post represents the Contributor's own opinion.*