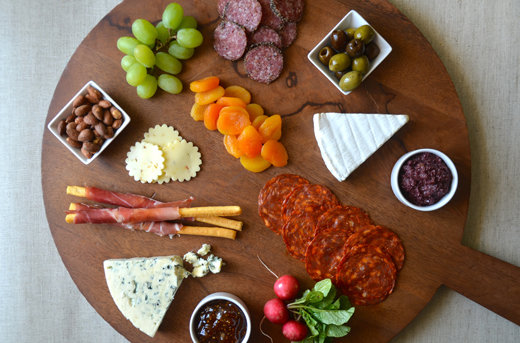 Charcuterie. The word alone evokes images of giant wooden platters overflowing with paper-thin prosciutto, sliced sopressata, creamy pâté and spicy sausages. Traditionally, charcuterie refers strictly to assorted prepared meats, but when it comes to the art of the charcuterie plate in my home, a little cheese, some crisp veggies and a homemade spread are essential additions.
There are no firm and fast rules here. A charcuterie plate is a chance to let the mind and palate wander. So grab your biggest serving platter or cutting board and read on to discover the key components to a kicked up charcuterie plate (carbs, come join us!) that makes the most of artful presentation and flavor practicality.
We'll start with the star of the show, the meat, which can make an appearance in varied forms, from smoked and air-dried to cured and cooked. Taste and texture are key components when it comes to selecting your assortment of meats, and I recommend limiting yourself to no less than three varieties.
A simple first selection is a hard salami, which I like to buy whole and then freshly slice using the KitchenAid® Pro Line® Series 16-Cup Food Processor and slicing attachment. This allows me to steer clear of my chef's knife, as the food processor produces consistently even slices in seconds. Consider the thickness of your salami slices and aim for a second meat, such as a smoky chorizo, in a varied thickness to keep palates guessing.
A thinly sliced third meat option, such as prosciutto or Jamón Serrano, gives you the chance to introduce a carb into the equation. Simply wrap each paper-thin slice of prosciutto around a crunchy breadstick for added visual appeal to your overall spread. 
Once you've selected the meats, you can strategically select the additional items to ensure cheeses and crackers fit not only the flavor profiles of the meats but also the ease with which your guests will graze.
Consider the shapes, textures and tastes of cheeses when selecting them for your charcuterie board. Opt for a variety of hard and soft cheeses, such as Parmesan, blue cheese or Brie. And don't forget to match the size and shape of your cheeses to your preferred crackers or carbs. I like to use a cookie cutter to add visual flair to slices of Monterrey Jack or cheddar cheese, which allows me to match their shapes to circular crackers or tiny square toasts.
With meats and cheeses taken care of, it's time to add a homemade spread to the lineup, and creamy tapenade is just the addition we need.
Tapenade is an olive spread flavored with fresh citrus and often times garlic and anchovies. Use the ratios below as a rough guide for amounts of ingredients, but feel free to select your favorite olive varieties and experiment with various flavors of citrus.
1 cup pitted olives
1 clove garlic
1 tablespoon fresh citrus juice
1 tablespoon extra-virgin olive oil
Combine the olives, garlic and citrus juice in a KitchenAid® Diamond Blender and blend the ingredients just until they're combined. With the blender still running, stream in the olive oil until the mixture is a creamy purée.
And that's all there is to it! A few simple ingredients and five minutes or less results in a rich homemade tapenade perfect for slathering atop crackers or sliced bread.
For additional crunch and flavor, consider including a variety of nuts, such as marcona almonds or spiced peanuts, as well as crispy, refreshing veggies, such as radishes or cornichon.
A whole platter of savory tastes is begging for a little something sweet, which is where the fig jam makes its mark. But with so many room temperature or chilled items already on display, I prefer to warm the jam just slightly by placing it in the KitchenAid® Sculpted Stainless Steel 1.5-Quart Saucepan set over low heat. The touch of warmth provides an intriguing temperature contrast.
In addition to warm jam, fresh and dried fruits add pops of color and sweet flavor, balancing out the richness of the meats and the saltiness of the cheeses and tapenade.
And last but not least, avoid getting your guests into a predicament by steering clear of oversize items. A warmed entire wheel of Brie wrapped in puff pastry can be unwieldy. Keep a cheese knife nearby to avoid having guests turn crackers into flatware.
You are the artist when it comes to determining where each offering sits on the serving platter. Opt to group cheeses, meats and fruits into sections, or intermix the various tastes to encourage your guests' palates to wander and sample combinations perhaps never considered.
*The Contributor of this post has been compensated by KitchenAid for this post, but this post represents the Contributor's own opinion.*