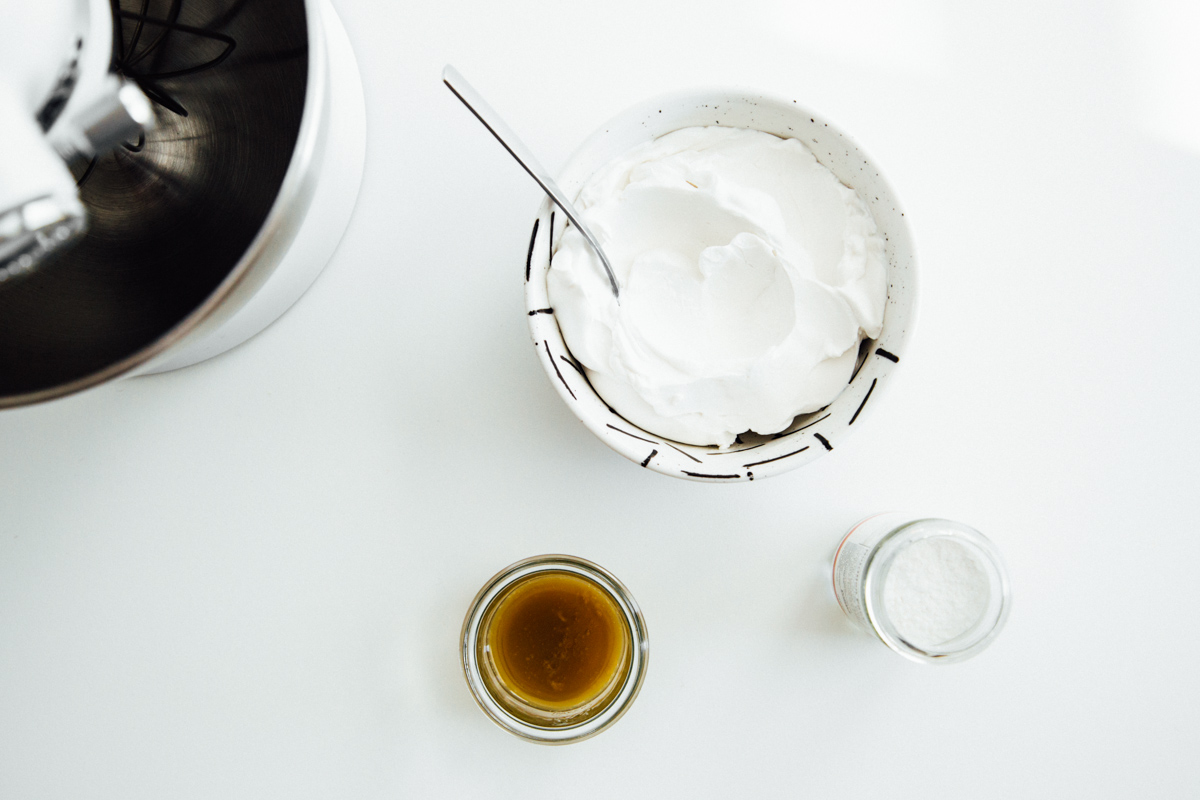 I've been a long-time fan of coconut whipped cream, but have always had one complaint: it's pretty heavy as far as whipped cream goes. While I'm thrilled to have a dairy-free option that doesn't contain half a dozen ingredients I don't know how to pronounce, I'm always looking for ways to improve on my favorite whipped topping. And you know what? I finally discovered what it's been missing all along: aquafaba.
If you're sitting there scratching your head and wondering, "Aqua-WHAT?" let me explain. Aquafaba is the protein-rich brine that comes from a can of chickpeas; otherwise known as that stuff you normally wouldn't think twice about dumping down the drain. But what if I told you that, when whipped, aquafaba creates something eerily similar to egg-laden meringue?
Not only that, but it can be used to create confections almost identical to those made with egg-laden meringue – which is pretty cool, if you ask me. But today we're going to focus on my recent discovery: aquafaba makes an excellent addition to coconut whipped cream, resulting in something that is light and fluffy (just like the real stuff).
A few notes on the ingredients:
Coconut cream: It should consist of two ingredients and two ingredients only: coconut (sometimes labeled as coconut extract) and water. If it contains anything else, it will not be suitable for this recipe due to consistency issues. Most coconut creams available at conventional grocery stores contain guar gum or other stabilizers, but your local Asian market should stock a variety of creams without added ingredients. My favorite is the Savoy brand coconut cream (it can even be ordered online).
Canned chickpeas: I prefer to use sodium-free chickpeas, but if you can't find them at your local grocery, a can of salt-containing chickpeas can be used (and won't impact the end result too much). Your chickpeas should contain only 2-3 ingredients: chickpeas and water (and maybe salt). Some companies add preservatives and/or seaweed to the beans, but you'll want to avoid both of these ingredients.
Now that we've got that out of the way, let's make some aquafaba coconut whipped cream, shall we?
Start by opening a can of chickpeas and pour 1 cup of the aquafaba into a small saucepan set over medium-low, reserving an additional 1/4 cup for later. Cook the aquafaba until you're left with 3-4 tablespoons of caramel-colored liquid that's just slightly gelatinous.
Add the aquafaba concentrate, 1/4 cup of the reserved aquafaba, and a pinch of cream of tartar to the stainless steel bowl of your KitchenAid® Artisan® Mini Stand Mixer fitted with the whisk attachment. Beat on high speed until the mixture forms stiff peaks, 2-3 minutes.
One of the things I love most about making this recipe using my Mini Stand Mixer is that it makes for an effortless, hands-free mixing experience. Not to mention, the Mini Stand Mixer's 3.5 quart capacity makes small-batch recipes achievable without wasting ingredients.
While the aquafaba is whipping, turn your can of chilled coconut cream upside down and open it, discarding the liquid on top. Once the aquafaba meringue is capable of forming stiff peaks, turn off the Mini Stand Mixer and add the coconut cream, vanilla extract, and maple syrup to the bowl. Mix on high speed for about 1 minute, just until the whipped cream is smooth and fluffy. And that's it!
You can refrigerate the aquafaba coconut whipped cream in an airtight container for up to 3 days or you can eat it immediately. I prefer the latter, especially when pillowed on top of my favorite buckwheat waffle recipe.
Share your take on this Aquafaba Coconut Whipped Cream on Instagram using #MadeWithKitchenAid for a chance to be featured.
Aquafaba Coconut Whipped Cream
Makes 8 servings
INGREDIENTS
One 15 1/2 ounce can of chickpeas
Pinch of cream of tartar (less than 1/8 teaspoon)
One 14 ounce can of coconut cream, refrigerated for 24-48 hours
2 teaspoons pure vanilla extract
2 tablespoons pure maple syrup
DIRECTIONS
Open the can of chickpeas and pour one cup of the aquafaba (the liquid in which the chickpeas are soaking) into a small saucepan set over medium-low heat. Reserve an additional 1/4 cup for later.
Cook the liquid until it's been reduced to 3-4 tablespoons; this may take up to 20 minutes depending on the size of your saucepan. Once reduced, let cool for 20 minutes.
Fit your KitchenAid® Artisan® Mini Stand Mixer with the whisk attachment. Once the aquafaba concentrate has cooled, pour it into the stainless steel bowl along with the reserved aquafaba (1/4 cup) and the cream of tartar. Mix on high speed until the mixture forms stiff, meringue-like peaks, about 2-3 minutes. While the aquafaba is whipping, turn the can of coconut cream upside down and open it; discard the water on top.
Once the aquafaba begins to form stiff peaks turn off the mixer and scoop in the coconut cream. Add the vanilla extract and pure maple syrup and mix until smooth and fluffy, no longer than one minute.
The aquafaba coconut whipped cream will keep in an airtight container for up to three days (but is best enjoyed fresh). If separation occurs, simply whisk to return it to its original consistency.
*The Contributor of this post has been compensated by KitchenAid for this post, but this post represents the Contributor's own opinion.*