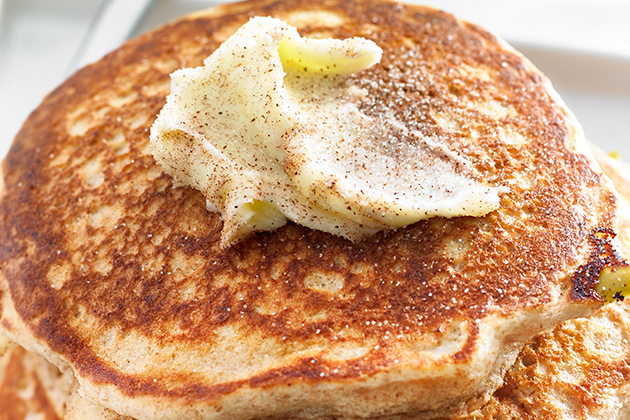 Apple Whole-Wheat Pancakes with Cinnamon Butter
Makes 6 servings
INGREDIENTS
For pancakes
1 firm apple
Non-stick cooking spray
1 tablespoon cinnamon sugar
2 eggs, separated
1 cup low fat buttermilk
1 cup low fat milk
3 tablespoons oil (canola or safflower)
3 tablespoons sugar
2 cups whole-wheat flour
2 teaspoons baking powder
1/2 teaspoon baking soda
1/2 teaspoon salt
For cinnamon butter
6 tablespoons butter, softened
1 tablespoon cinnamon sugar
DIRECTIONS
Preheat griddle to 350°F.
Stir together softened butter and cinnamon sugar in a small bowl. Set aside.
Attach the Spiralizer Attachment to the KitchenAid® Stand Mixer. Center apple on fruit and vegetable
skewer; attach to Spiralizer. Attach peeling blade and spiral slice large core blade and position at end of apple. Turn Stand Mixer to speed 6 and process until blade reaches end of apple. Cut slices into eighths.
Heat a small skillet over medium heat. Spray with non-stick cooking spray. Add sliced apple and stir in
1 tablespoon cinnamon sugar. Sauté for 10 minutes until apples are softened. Remove from heat and
allow to cool. Remove Spiralizer Attachment from Stand Mixer.
Attach wire whip to Stand Mixer. Add egg whites to bowl and whip on high speed until stiff peaks form,
about 1 minute. Remove whipped egg white to a separate bowl. Remove wire whip and attach flat beater
to Stand Mixer. Add egg yolks, buttermilk, milk, oil and sugar to mixer bowl. Mix on medium speed
until combined.
In a separate small bowl, combine flour, baking powder, baking soda and salt. Add to wet mixture and
mix on low speed until just combined. Fold in apples and egg whites using lowest speed.
Spray griddle with non-stick cooking spray and drop 1/4-cup portions of batter onto griddle. Flip pancakes when bubbles form on top and bottom is golden brown, about 1 minute. Cook for 1–2 minutes longer
on opposite side, or until cooked through. Serve with cinnamon butter or maple syrup.

Print
*The Contributor of this post has been compensated by KitchenAid for this post, but this post represents the Contributor's own opinion.*