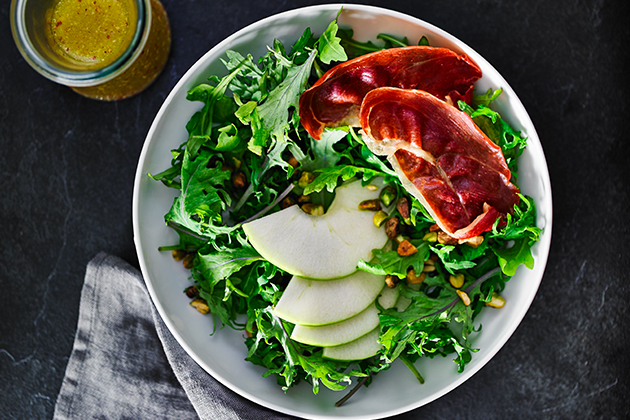 Apple Salad with Crispy Prosciutto
Makes 4 servings
INGREDIENTS
8 ounces thinly sliced prosciutto
2 tablespoons olive oil
2 tablespoons cider vinegar
1 tablespoon honey
1 teaspoon coarse grain mustard
1 teaspoon fresh lemon juice
1/4 teaspoon salt
Pinch freshly ground black pepper
2 Granny Smith apples
4 cups baby arugula
1/2 cup chopped roasted almonds
DIRECTIONS
Preheat oven to 400°F.
Arrange prosciutto in single layer on large baking sheet. Bake 5 to 8 minutes or until crisp. Cool completely.
For dressing, whisk olive oil, vinegar, honey, mustard, lemon juice, salt and pepper in small bowl until well blended.
Attach Spiralizer Attachment to KitchenAid® Stand Mixer. Center one apple on fruit and vegetable skewer; attach to Spiralizer. Attach spiral slice small core blade and position at end of apple. Turn stand mixer to speed 4 and process until blade reaches end of apple. Repeat with remaining apple. Stand apples on end and cut in half.
Divide arugula among 4 salad plates; top with apples, prosciutto and almonds. Drizzle with dressing.

Print
*The Contributor of this post has been compensated by KitchenAid for this post, but this post represents the Contributor's own opinion.*