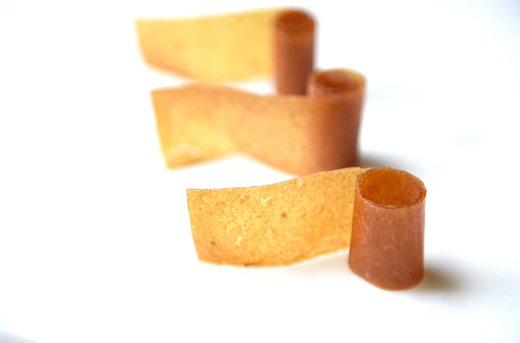 It's back to school and the beginning of fall harvest season. For healthy snacks in the school lunch box, make these delicious apple leather fruit roll-ups. Change the fruit around according to the season. Use kiwis (if your kid isn't allergic to them), pears or apples in the fall and winter. Try strawberries in the spring and stone fruits, such as peaches and nectarines, in the summer, keeping the KitchenAid® Diamond Blender busy year-round. You can even experiment and make a vegetable fruit leather version with pumpkins.
The ingredient list of commercially made fruit roll-ups is a mile long, with loads of unhealthy ingredients. Here, you have just one ingredient if you do not wish to add anything to the fruit, and at most five, if you wish to mix and match some fruits, maybe add a bit of sugar or honey and a touch of cinnamon. No preservatives, coloring or watered down fruits in this recipe.
While growing up my son had many allergies, so homemade school lunches were the way to go. It was a win/win situation. Even though the healthier school lunch movement is making good strides at school cafeterias, I still wasn't thrilled about the food offered at my son's school. Speaking of which, even with the french fries his friends would want to trade him in exchange for his home-made fruit roll-ups, he wouldn't budge. Luckily, I would usually send some extra fruit roll-ups for him to share with his friends at lunch.
One of my favorite fruit leathers is the apple fruit roll-ups, especially when I mix a few varieties of apples to achieve a depth of flavor. I like to mix sweet apples with sweet/tangy varieties. Granny Smiths are great for baking, but I try to avoid any sour apples in fruit leathers.
I peel, core and (large) cube the apples. Toss them immediately with lemon juice to avoid oxidizing.
Once pureed, the apple sauce will look oxidized, but when cooked, the color will get lighter. It will further achieve a nice deep golden hue while de-hydrating at a low temperature in the oven.
I am partial to a touch of sugar in these roll-ups, depending on the natural sweetness of the fruit. With that being said, I have made fruit leather over the years both with honey and without any sweeteners altogether. I used sugar in the apple batch and honey in the killer kiwi, pear and apple batch I made the other day. If you wish to keep it completely healthy, don't use sugar. If you aren't using sugar, reduce the lemon juice by half or more.
In the recipe below, I used the pre-cooked method prior to de-hydrating the puree in the oven. I usually do not cook the fruit beforehand in order to reduce moisture on the stove top, with the apples being the exception to the rule. I cook the apples mainly because of the lighter color I achieve once cooked on the stove top. I have put puree of apples directly to dehydrate in the oven, without reducing the moisture content on the stove top. I see a negligible fraction of time shaved from one method to the next so you can skip the stove top step if you don't mind a darker apple fruit leather.
Apple Harvest Fruit Leather Roll-Ups
Makes 8-10 strips
INGREDIENTS
4 sweet and/or sweet/tangy medium apples, peeled, cored and cubed (no sour apples like Granny Smith)
2-4 tablespoons sugar or to taste (honey)
Juice of 1 medium lemon
1/2 cup water
1/8-1/4 teaspoon cinnamon (optional)
DIRECTIONS
Pre-heat oven to 200F.
Line 12×17 with parchment paper or silicone baking mat.
Add all the ingredients with only 2 tablespoons sugar or honey into the KitchenAid® Diamond Blender. Add the cinnamon if desired. Liquefy for a few seconds until a smooth consistency is reached. Taste for sweetness and adjust, add the remaining 2 tablespoons of sugar or honey, if needed. Pulse once or twice.
Pour the pureed fruit into a large sauce pan on medium/high heat. Bring to boil, stir and immediately reduce to low/medium heat for a gentle bubble. Occasionally stir. Be careful, the apple sauce might splatter. Lower to low heat as the sauce thickens. Cook uncovered for approximately 25-35 minutes or until the sauce is thick. Take off the stove and let it cool slightly.
Pour onto the parchment paper lined cookie sheet. Spread and level with a spatula or an off set spatula.
Bake for approximately 6 – 6 1/2 hours* or until tacky to the touch but not sticky. Rotate the trays 180 degrees midway through.
Let the fruit leather come to room temperature and cut into strips with a pizza cutter or kitchen shears. Peel off the parchment paper and roll with the parchment paper or without. If using silicone, flip the fruit leather on top of parchment paper and cut into strips, then roll.
*Time depends on the oven as ovens vary as well as moisture content of the fruit. If using turbo, time might be shorter. Batch can be easily doubled and both trays can go into the oven at once.
Print
*The Contributor of this post has been compensated by KitchenAid for this post, but this post represents the Contributor's own opinion.*