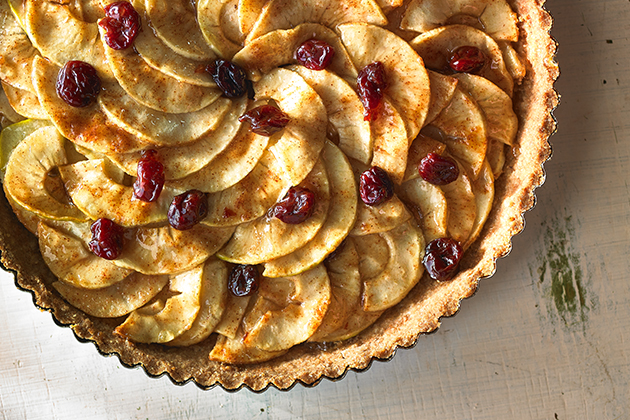 Apple and Cranberry Tart with Whole Wheat Walnut Crust
Makes 8-10 servings
INGREDIENTS
Crust
1/2 cup walnuts
1 1/3 cups whole wheat flour
1/2 teaspoon salt
1/3 cup sugar
1/3 cup oil (canola, safflower)
1 tablespoon cold water
Apples and Cranberries
3 firm apples (green or red)
1/3 cup packed light brown sugar
2 tablespoons all-purpose flour
1/2 teaspoon cinnamon
1/8 teaspoon salt
1/4 cup apple jelly
1/4 cup dried cranberries
DIRECTIONS
Preheat oven to 375°F
Pulse walnuts in a food processor until finely ground. Add flour, salt and sugar. Pulse a few times to combine. While processor is running, drizzle in 1⁄3 cup oil. Sprinkle water over mixture and pulse a few times to combine. Press crust mixture evenly into the bottom of an 11.-inch tart pan with removable bottom. Place on large baking sheet and bake for 20 minutes or until the walnuts become fragrant.
Attach Spiralizer Attachment to the KitchenAid® Stand Mixer. Center one apple on fruit and vegetable skewer; attach to Spiralizer. Attach peeling blade and spiral slice large core blade and position at end of apple. Turn stand mixer to speed 6 and process until blade reaches end of apple. Repeat with remaining apples. Stand sliced apples on end and cut in half.
Combine brown sugar, flour, cinnamon and salt in a medium bowl. Add apple slices and gently toss to coat. Arrange one layer of overlapping apple slices around the bottom perimeter of the baked crust. Arrange additional apple slices in a single layer, filling in the center of apple ring. Continue with additional layers until pan is full. Bake for 25 to 30 minutes or until the apples are tender.
In small microwave-safe bowl, combine apple jelly and cranberries. Microwave for 30 to 40 seconds or until the jelly starts to bubble. Remove and stir until completely melted. Spoon melted jelly and cranberries evenly over the apples. Use a pastry brush to evenly coat the apples. Allow to rest 10 minutes before serving.

Print
*The Contributor of this post has been compensated by KitchenAid for this post, but this post represents the Contributor's own opinion.*