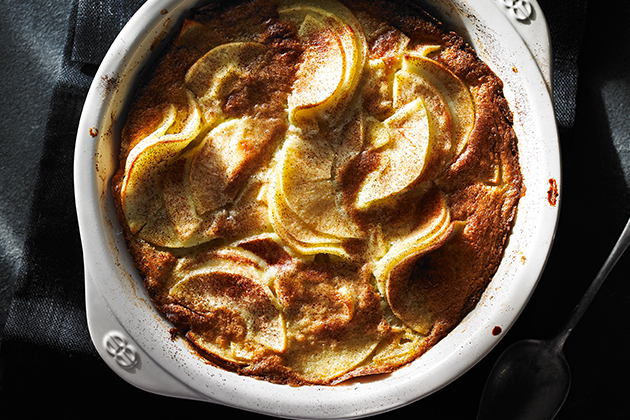 Apple Clafouti
Makes 10 servings
INGREDIENTS
9 tablespoons butter, softened, divided
1 cup heavy cream
3 eggs
1 teaspoon vanilla
1 teaspoon
2/3 cup flour
1 cup sugar, divided
1/2 teaspoon salt
3 medium tart apples
1 teaspoon fresh lemon juice
3 tablespoons brandy
1/2 teaspoon ground cinnamon
DIRECTIONS
Preheat oven to 400°F
Grease 9-inch round or square baking dish with 1 tablespoon butter. Place prepared baking dish in oven to preheat 10 minutes before ready to bake.
Attach flat beater to KitchenAid® Stand Mixer. Combine cream, eggs, 6 tablespoons butter, flour, 1/2 cup sugar, vanilla and salt in mixer bowl. Beat on medium-low speed about 30 seconds or until combined.
Remove flat beater; attach Spiralizer Attachment to stand mixer. Center one apple on fruit and vegetable skewer; attach to Spiralizer. Attach peeling blade and large core spiral slice blade and position at end of apple. Turn stand mixer to speed 6 and process until blade reaches end of apple. Repeat with remaining apples. Stand apples on end and cut into half circles; place in medium bowl. Add lemon juice; toss to coat.
Melt remaining 2 tablespoons butter in medium skillet over medium-high heat. Add apples and remaining 1/2 cup sugar; sauté 2 minutes. Add brandy; sauté 2 minutes. Transfer apples to medium bowl with slotted spoon, leaving juices in skillet.
Pour half of batter into hot baking dish. Arrange apples over batter; top with remaining batter and sprinkle with cinnamon.
Bake 18 to 20 minutes or until edge is golden and center is set. Let cool slightly. If desired, warm pan juices in skillet and drizzle over clafouti.

Print
*The Contributor of this post has been compensated by KitchenAid for this post, but this post represents the Contributor's own opinion.*