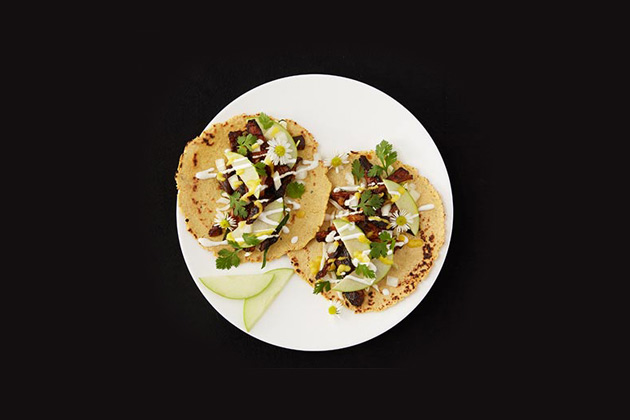 Apple Bacon Tacos by Ricardo Heredia
Makes 12 servings
INGREDIENTS
1 cup sour cream
¼ cup apple cider
1 tablespoon canola oil
4 Fuji apples
1 small yellow onion, diced
2 cloves garlic
6 jarred Manzano chiles, or 3 jarred roasted yellow peppers
1 tablespoon apple cider vinegar
3 Granny Smith apples
3 fresh epazote leaves, or 1 teaspoon dried epazote
1 tablespoon fresh chamomile flowers, plus more for serving (optional)
4 ounces (10 to 12) dried pasilla chiles, seeds and stems removed
2 pounds applewood smoked slab bacon, cut into 2-inch pieces
2 cups yellow masa
2 teaspoons salt
2 cups finely sliced green cabbage
1 bunch fresh hoja santa, or fennel fronds, finely sliced cilantro for serving
DIRECTIONS
Make crèma by combining sour cream and apple cider. Cover and refrigerate.
To make the salsa, dice ½ of a Fuji apple. Heat oil in a skillet over medium-high heat and cook the diced apple, onion and garlic until soft, about 3 minutes. Transfer to a blender with the Manzano chiles and apple cider vinegar; blend until smooth. Cover and set aside.
Wash and peel 3 Fuji apples and 3 Granny Smith apples, reserving the skin. Roughly chop the apples and place in a pressure cooker, or heavy pot, with the epazote, chamomile flowers if using, and 1 quart of water. Cook on medium-high heat according to pressure cooker instructions for 15 minutes. Or simmer, covered, in the pot until the apples are very tender, 25 to 30 minutes.
While apples cook, toast pasilla chiles in a dry skillet over medium heat until they begin to turn dark, about 2 minutes on each side. Set aside.
When apples are soft, press through a fine mesh strainer to collect all the liquid into the pot. Discard solids. Remove 2 cups of the apple liquid and set aside. Add toasted pasilla chiles and bacon pieces to the pot. Cook 20 minutes in the pressure cooker, or simmer in the pot, covered, until bacon is tender and chiles are soft, about 1 hour.
To make tortillas, heat broiler and cook reserved apple skins until fully charred. Mix 2 tablespoons of the char from the skins with the masa and salt in a bowl. Stir in the 2 cups of reserved apple liquid and mix to form a dough. Working quickly, divide dough into 12 balls, keeping them from drying out under a damp paper towel. Use a tortilla press lined with plastic wrap to flatten tortillas; cook them in a dry cast-iron skillet over medium-high heat for 2 minutes on each side. Keep tortillas wrapped in a clean towel.
When bacon is tender, remove and set aside. Blend cooking liquid and chiles in batches, until smooth. Pull or chop bacon into small pieces and sauté until crispy in a skillet. Stir in a few tablespoons of the chili sauce. Use remaining chili sauce for serving.
Slice remaining ½ Fuji apple thinly. Assemble tacos by placing some shredded cabbage and hoja santa leaves on each tortilla. Top with bacon and chili sauce, some salsa, crèma and sliced apple. Serve with cilantro and chamomile flowers, if desired.
Note: This recipe has been slightly modified from the original winning entry.

Print