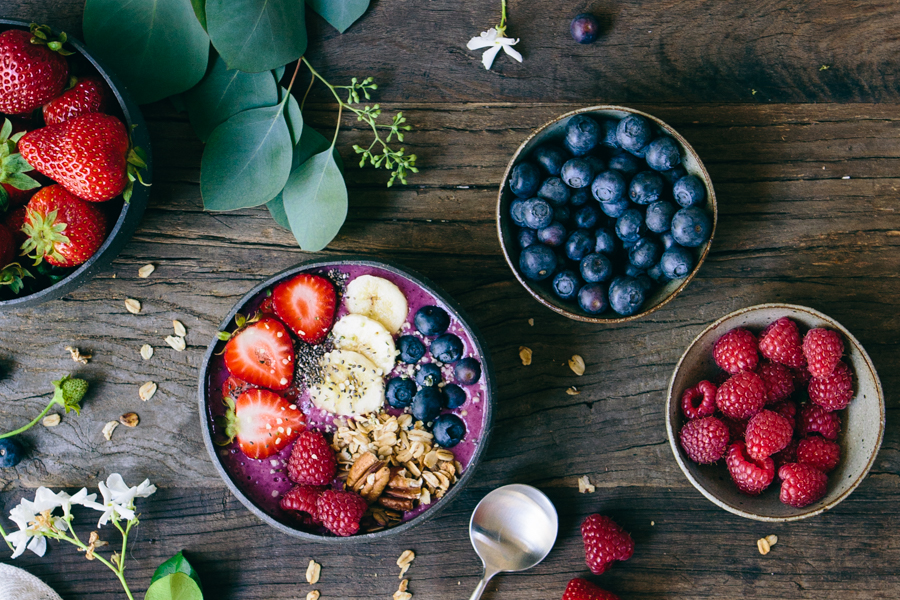 In the summertime, we drink a lot of smoothies. We simply love smoothies! And why? Well, to start, they are quick and easy to make. Making nutrition-packed smoothies doesn't take as long as preparing most meals, which then frees up more time to do other things. Additionally, smoothies help you reach your daily recommended amount of fruits and veggies to make sure we all get the daily nutrition our bodies need.
My kids like smoothies because they are colorful, refreshing, naturally sweet and quick to eat/drink. And they like to make it themselves. My kids are old enough now that they can peel and chop the fruits and veggies and even blend their own versions of smoothies. In a way, smoothie-making helps to promote a healthy diet and a sense of independence. Win win! Plus, sometimes I also hide veggies in my kids' smoothies that they would never eat on their own. Don't tell!
I've also found that drinking a smoothie regularly helps me to slim down in a healthy way. Smoothies help to infuse my body with vitamins and minerals that it needs. Moreover, adding detoxifying ingredients such as kale, blackberry and Açaí berry into the smoothies aid the body's detoxification process.
Today, I am showing you a very simple, yet delicious and nutritious smoothie, which contains raspberry, blueberry, strawberry, banana, hemp seeds and coconut milk. This one of my favorite smoothies, not only for its packed nutrients, but also, its color! The vibrant magenta hue these ingredients make is just so gorgeous.
Berries, such as strawberries, blueberries, raspberries and blackberries are powerful super foods. They provide rich antioxidants, nutrients, and phytochemical, which help prevent the effects of aging, cardiovascular disease, diabetes, high blood pressure and certain types of cancer. Adding banana not only sweetens the smoothies, but also boosts your energy. Coconut milk builds muscles, prevents fatigue and helps weight loss. And finally, the omega-3 rich hemp seeds promote digestion, blood circulation in the body and keep the brain healthy. This smoothie will give your body the cleansing it needs.
To make the smoothie, add your fruits, hemp seeds, and coconut milk to the KitchenAid® Pro Line® Series Blender.
Then, cover and blend away! This Blender seriously does all the work for you. Who said healthy eating had to be hard?
Once blended, divide and pour your smoothie base into your serving bowls. Top with your favorite ingredients. Here, I used a combination of strawberries, raspberries, blueberries, bananas, hemp seeds and chia seeds.
I hope you will like this recipe as much as we did. Keep on blending!
Share your take on this Antioxidant Berry Smoothie Bowl recipe on Instagram using #MadeWithKitchenAid for a chance to be featured.
Antioxidant Berry Smoothie Bowl
Makes 2-3 servings
INGREDIENTS
For the smoothie base
1 cup cold coconut milk
1 fresh banana, thinly sliced
1 cup fresh raspberries
1/2 cup fresh blueberries
1/2 cup fresh strawberries
1 tablespoon hemp seeds
For the toppings
1-2 strawberries
Small handful of raspberries
Small handful of blueberries
3-5 slices of bananas
1 teaspoon hemp seeds
1 teaspoon chia seeds
DIRECTIONS
Add all the smoothie base ingredients into the KitchenAid® Pro Line® Series Blender and blend until smooth. Add more water, if necessary to reach desired consistency.
Divide the smoothie among the serving bowls and top fresh strawberries, raspberries, blueberries, banana slices, hemp seeds, chia seeds and granola on the smoothie. Serve immediately.
Print
*The Contributor of this post has been compensated by KitchenAid for this post, but this post represents the Contributor's own opinion.*