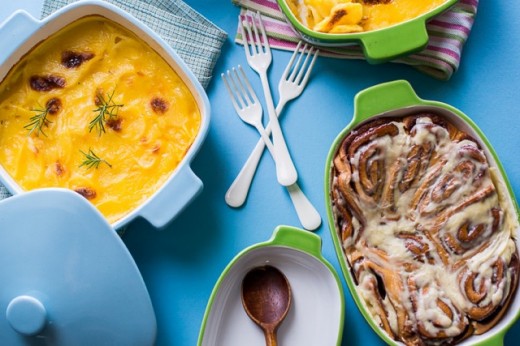 With so many different moods, stories and styles of food photography and styling, it's easy to be inspired by so much of the seasonality reflected in food images. Though the dark and moody tones are often popular in many images, particularly for the Autumn and Winter themed dishes, lets not forget to appreciate pops of happy color. Especially now that the season is starting to warm up and Spring is making a strong appearance, you can have fun with color in all different tones and variations.
The Spring palate of bright blues, greens, yellows and pinks are just as fun to photograph as dark tones, so don't limit yourself to feeling like you have to always photograph your food on clean whites or dark woods.
Take for example KitchenAid's beautiful and colorful collection of Streamline Ceramic Casserole Dishes and Nesting Ceramic Sets where the variety of happy colors are plentiful, you can have tons of fun photographing with color. All you need are a few bold moves with the color combinations and your food images will pop and bring lots of new attention. Don't be afraid to mix color combinations because this is a perfect examples of how opposites can attract.
You can certainly keep your images and propping all monotone, but have you ever thought about using contrasting and complimentary colors to help bring out the food and overall ambiance of the image?
Here's a few examples of not being afraid to mix colors to bring a different perspective and story to your image:
Above Cinnamon roll photo example: Green and yellow are a perfect complementary pair of colors and by adding and additional texture brings more interest to the frame. In this case, the patterns on the yellow placemat bring a more modern feel to the cinnamon roll dish and definitely makes it more fun and fresh!
Above scalloped potatoes photo: Have fun with pink and don't limit yourself to just having everything pink and monotone. The lively pop of bright green and pink makes a happy mood and feel to this potato dish. This palette of pinks and greens really liven up the scene and convey the feeling of Spring's arrival.
Above scalloped potatoes photo: Blue dishes are always a favorite and popular prop to use for color. Not only does it give a bright feel, it's also very modern and chic. So to mix things up for a little more color and pizzaz, add a pop of yellow to complement that feeling of clean and modern.
So the next time you want to shoot your next recipe with color, think of all the fun and happy combinations you can create in a scene. The possibilities are endless and you'll be brightening everyones day with your recipes in happy color!