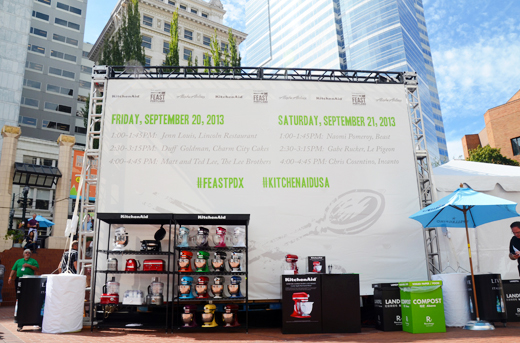 Carnitas, oysters, bourbon pie, jalapeño jelly. You name it, I ate it at the second annual Feast Portland event presented by Bon Appétit from September 19 to 22. Arriving just in time for day one of the Grand Tasting, I made my way to the KitchenAid Main Stage, where I spotted a lineup of Pro Line series appliances as well as the fan favorite, a display featuring a rainbow of stand mixers in every color.
I grabbed a front row seat for the first of the day's chef demos, which featured local chef Jenn Louis of Sunshine Tavern and Lincoln restaurants. Chef Louis wasted little time tempting our taste buds as she dove straight into making classic potato gnocchi, tossing the fluffy dumplings in creamy tomato-butter sauce.
But the entertainment didn't stop there. Next up was Charm City Cakes' very own Duff Goldman, who treated the crowd to a spirited demo starring homemade butternut squash waffles topped with bacon, fried eggs, bananas foster and caramel ice cream.
The sight alone of the waffle was enough to ignite my appetite for the evening of eating ahead at the Night Market. Just a short distance from Pioneer Courthouse Square, the market featured endless tasting tables serving up everything from grilled beef lettuce wraps and citrus-soaked hamachi to sliced brisket and birthday cake truffles.
But of course no trip to Portland would be complete without a stop at the legendary Voodoo Doughnut. I had been to Voodoo once in the past but had made the rookie mistake of arriving around 8 a.m., which meant I was greeted by a swelling crowd of fellow doughnut enthusiasts that formed a line snaking down (and around) the block. I wised up for my second visit, and on day two of the feast, I power-walked my way straight into the shop well before the 7 o'clock hour.
I selected an assortment that included a buttermilk bar, an apple fritter, a chopped peanut-topped cake doughnut, an M&M-topped cake doughnut and, of course, a classic jelly-filled voodoo doll doughnut. With a day's worth of tastes still ahead, I paced myself with my early morning indulgence before making my way to day two of the Grand Tasting. One of the day's many highlights included a demo by chef and restaurateur Chris Cosentino of Top Chef Masters and Iron Chef America fame. Chef Cosentino whipped up his signature beef heart tartare using the meat grinder attachment on the KitchenAid stand mixer. He tossed the finely ground beef with classic puttanesca flavors and finished off the dish with toasted garlic chips.
It was a whirlwind of tastes in a 48-hour period that stretched the spectrum from fried dough to beef tartare and nearly every taste in between. Head over to KitchenAid's Facebook page to check out more photos from Feast Portland and follow KitchenAid on Twitter and Instagram for all of the latest updates.
*The Contributor of this post was provided with an all-expenses paid trip to Feast Portland by KitchenAid, but this post represents the Contributor's own opinion.*