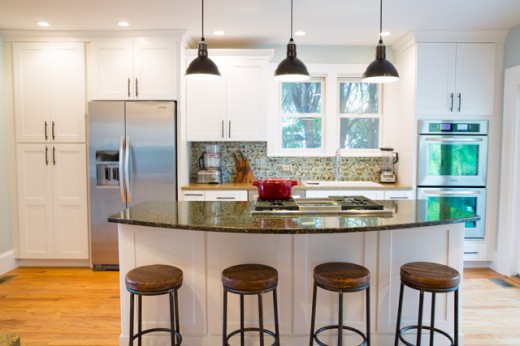 There's nothing I love more than a makeover. Not hair and makeup, although that's nice as well. I'm talking about remodeling our home.
A well-planned room design can change not only the use and ambiance of a space, but the demeanor of the people using it. I've been known to move furniture around relentlessly, until the configuration creates just the right feel.
Last spring we had the opportunity to remodel our tired old kitchen. Knowing the decisions made would not be easy to change, once set in motion, we thought long and hard about the functionality of our new kitchen, the atmosphere we wanted to cook in, and the products we wanted in the finished space.
It was tricky designing the perfect kitchen in an old house with existing limitations. Certain walls and windows couldn't be moved due to code restrictions, and the ceiling and floors were uneven.
Yet in the end, we love our spacious and inviting new kitchen.
Cooking as much as we do, it was obvious we had to select major appliances that provided the durability and professional-grade operation necessary to stand the test of time.
We didn't want to get bored with our appliances because they couldn't rise to the occasion when we demanded superior performance for culinary endeavors. And we certainly didn't want them to peter out on us a few years after the renovation.
We chose KitchenAid® Major Appliances because of the trusted name, the remarkable reviews, and the innovative options with each appliance.
So let me walk you through my new kitchen and explain what we chose, why we chose it, and share why we placed it where we did.
This, my friends, might possibly be the world's quietest dishwasher.
This KitchenAid® Architect® Series Dishwasher is so well insulated, and performs so efficiently, you wouldn't know it was running if you didn't see the little light in the door.
With 40 jets and an adjustable upper rack that can move to accommodate nearly any size of dish, it was just the dishwasher I needed after a long day of recipe testing, or a large family gathering!
We placed the dishwasher right next to the sink and directly under the cabinets we planned to store our most used dishes, for easy loading and unloading.
This worked out wonderfully.
For baking we decided to go with the KitchenAid® 30-Inch Steam-Assist Double Oven and a separate convection microwave, because we bake enough to merit the need for two ovens. If you don't use your oven as much as we do, KitchenAid® makes a marvelous combination microwave wall oven.
We chose the KitchenAid® 30-Inch Steam-Assist Double Oven because it allows us to bake large items with conventional heat for classic recipes, convection heat for crisp textures and perfect browning, or with steam.
The steam function comes in handy when I want to steam vegetables, dumplings, tender breads, or when I want to bake delicate custards and cheesecakes without a water bath.
In our previous kitchen configuration, our refrigerator was in a corner. That meant one of the doors only opened to 90 degrees. We moved the oven to the corner, right across from the island, so I could take dishes straight out of the oven and rest them on the counter.
The KitchenAid® Convection Built-in Microwave went across from the ovens below the counter top, to make it easy for the kids to access. They beauty of my new microwave is that it's extremely spacious and doubles as a third convection oven when needed.
Does that mean I can bake cookies in the microwave? Absolutely.
Choosing a range was the hardest decision for us to make.
I wanted every option possible… multiple burners, griddle, grill, but I didn't want it to eat up all my counter space. In the end we selected a KitchenAid® 36-Inch Commercial-Style Gas Rangetop with a griddle in the middle.
This allows us four good-sized burners, with two high-heat professional burners and one double burner for extremely high or low heat.
The grates are easy to remove for cleaning and the griddle is awesome. It's wide enough to cook four average sized pancakes at once and is also very easy to clean.
We chose to put the cooktop in the center of our kitchen island because I love to face my family and guests while cooking. My kids can sit across from me working on school assignments or crafts while I cook dinner in the evenings.
Instead of putting in a hood, we added the KitchenAid® 36-Inch Retractable Downdraft System behind the range. Whenever I have a little steam (or smoke) coming off my saucepans, I simply push a button and up pops my ventilation system.
It's a nice feature to have when I need it, yet doesn't hang down in the middle of the room.
And finally we chose the KitchenAid® 24-Inch Counter-Depth Side-by-Side Refrigerator, because it was the most spacious counter-depth fridge KitchenAid makes that would fit in my kitchen.
Personally I prefer the look of a counter-depth refrigerator. Even though they offer a little less storage space, they provide more space to move around in the kitchen.
The KitchenAid 24-Inch Counter-Depth Side-by-Side Refrigerator has an amazing FreshFlow™ Air Filter filtration system that keeps food fresh much longer than usual, by monitoring the humidity and the chemicals being released by the foods in the fridge.
We actually took out an old window to create a space for the new refrigerator, so both doors could open up all the way, as they should. A feature I couldn't enjoy before the renovation.
My new kitchen has literally changed my life for the better. It makes my daily tasks much more efficient and enjoyable, so cooking is a pleasure instead of a chore.
Thank you KitchenAid, for making such inspiring major appliances!
*The Contributor of this post has been compensated by KitchenAid for this post and was provided with all the appliances mentioned above free of charge, but this post represents the Contributor's own opinion.*