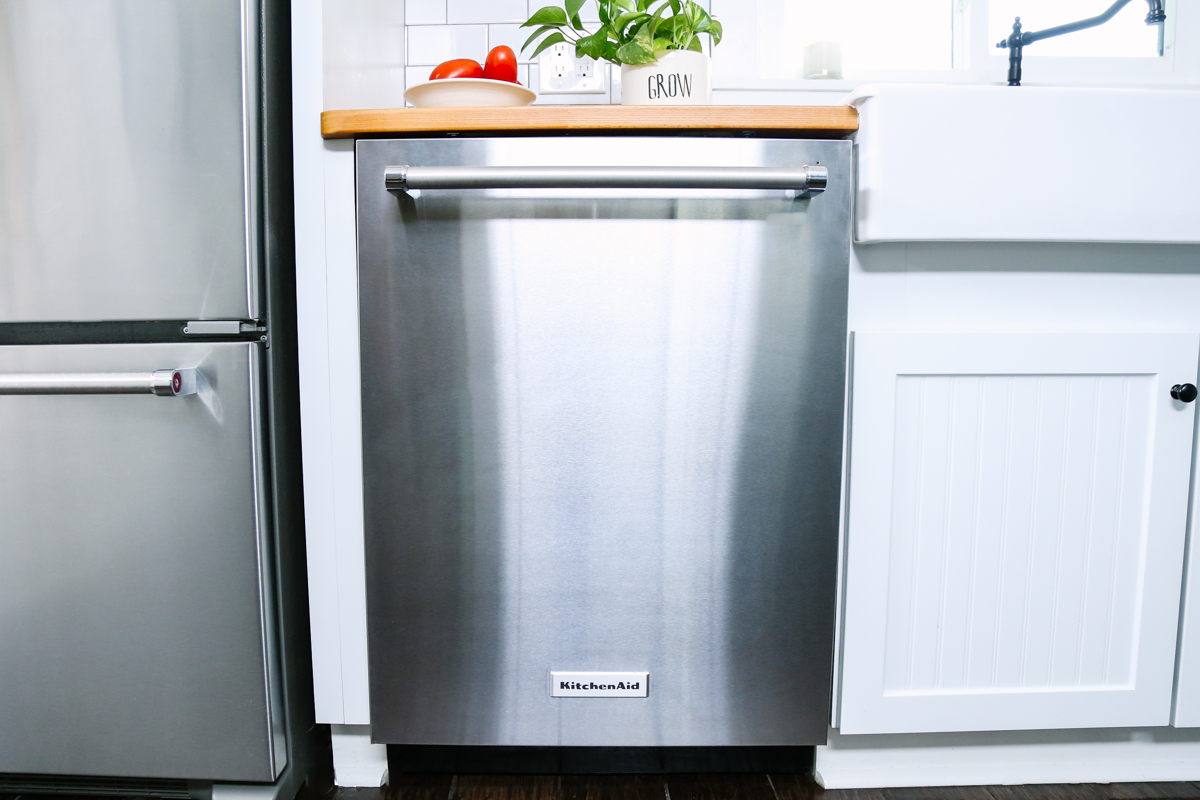 Last summer, my family took the ultimate do-it-yourself homeowner plunge: we remodeled our kitchen!
The kitchen in our home hadn't been touched, as far as upgrades go, since the 1960's. So there was plenty of work to be done, even for a very small space.
Before we even started picking out the backsplash or the countertops, we took a look at appliance options. As a foodie, I've learned that appliances are definitely the heart of a home kitchen. The right appliances can make life in the kitchen easier and more enjoyable, which is why we went with a KitchenAid® French Door Refrigerator, Dishwasher, and Dual-Fuel Convection Slide-In Range.
With new appliances, and a fully updated kitchen, I've been looking for ways to make the most out my kitchen space and these new tools.
As a mom, I'm constantly in the kitchen making meals for my family. This means my sink is always overflowing with dishes, so my new Dishwasher gets a lot of attention. Along with taking care of the evening dishes, I've learned that my Dishwasher is capable of handling so much more! Here are my favorite hacks for getting even more out of my Dishwasher.
#1: Clean Your Filter
This isn't a "WOW!" kind of a hack, but this is 100% essential towards getting the most out of your dishwasher and enjoying the rest of the hacks on this list. On my particular model, I do not have to clean the filter, but if you don't have mine, cleaning your dishwasher filter is really easy: twist and remove the filter, and carefully clean it. That's it! This is a really simple task that will make a world of difference when it comes to the optimal performance of your dishwasher.
#2: Wash Fruit and Vegetables
Yes, this is for real! You can actually wash fruit and vegetables in the Dishwasher. I've discovered that this is a less labor intensive way to get my fruit and vegetables clean, especially after a big morning at the farmer's market. Arrange the fruit and vegetables in the Dishwasher, and then run the rinse cycle (do not add soap). Within a few minutes, the hard and time-intensive work of cleaning produce is done.
My top produce picks for the Dishwasher include: potatoes, apples, tomatoes (make sure they aren't overly ripe), smaller melons, cucumbers, squash, celery, pears (make sure they aren't overly ripe), citrus fruits, carrots, beets, peppers. Avoid placing sandy produce in the Dishwasher.
#3: Bring New Life to Kitchen Sponges
Kitchen sponges, ugh! They are a necessity, but a necessity difficult to keep clean. I've found the easiest way to clean and freshen a hard-working kitchen sponge is by running it through a Dishwasher cycle next to our dirty plates and bowls.
#4: Clean Brushes
If it's a brush, and it isn't made with wood, you may be able to clean it in the Dishwasher. On occasion, I'll place my cleaning brushes (used to clean sinks and showers) in the Dishwasher for a full-cycle cleaning. Always remove hair and/or debris from the brushes before placing them in the Dishwasher.
#5: Clean Snack Bags and Lunch Bags
If you're a mom, or you pack a lunch for work, then you're probably very familiar with cloth snack and lunch bags. These bags are great alternatives to paper and plastic, because they can be reused for many years. I've found the best way to clean my kids' cloth snack bags and small lunch bags is in the Dishwasher, right alongside the dishes. The prongs in my KitchenAid® Dishwasher perfectly support the bags, which means even the interior of each bag gets clean, and that's often hard to accomplish with other machines.
#6: Use a Mesh Bag
We use a lot of small reusable containers in our kitchen. These containers hold everything from a portable on-the-go snack to last night's leftovers. Small containers present an interesting challenge in the Dishwasher. To help keep the small lids organized in the dishwasher, I place them in a mesh bag on the top shelf of my KitchenAid® Dishwasher. When the dishes are clean, I grab the bag, open it up, and can quickly place the lids back in the cabinet.
#7: Use a Clean/Dirty Magnet System
KitchenAid thinks about everything when it comes to designing practical (and beautiful) appliances. One example of this "everything" mentality is the little white light that appears on the front of my Dishwasher when the dishes are clean.
In theory, I empty the Dishwasher at the first sight of that white light. In real life, that doesn't actually happen. Instead, someone in the family notices the white light, opens the Dishwasher door, grabs a glass, and then closes the door. This means clean (or dirty) dishes can sit for a while before someone asks, "Did you run the Dishwasher?"
To help answer this question, I created a clean and dirty magnet system. This system is made from an old magnet, which I covered with washi tape, and then labeled with the words "clean" and "dirty."
#8: Say Good-Bye to Toy Germs
As a mom, I know that toys are the ultimate home for germs. After a playdate or a case of the sniffles, I run plastic toys through a full Dishwasher cycle. Germs be gone!
#9: Organize to Simplify
Finally, let's talk about organization! KitchenAid provides individual spots in the silverware compartments for silverware. When loading these spots, I try to keep the forks, knives, and spoons all together. This makes emptying the Dishwasher so much easier. This concept may also be applied to plates, bowls, and whatever else may be washed in the dishwasher.
Do you have any favorite dishwasher hacks that help simplify your life? Share your take on these Dishwasher Hacks on Instagram using #MadeWithKitchenAid for a chance to be featured.
*The Contributor of this post has been compensated by KitchenAid for this post, but this post represents the Contributor's own opinion.*