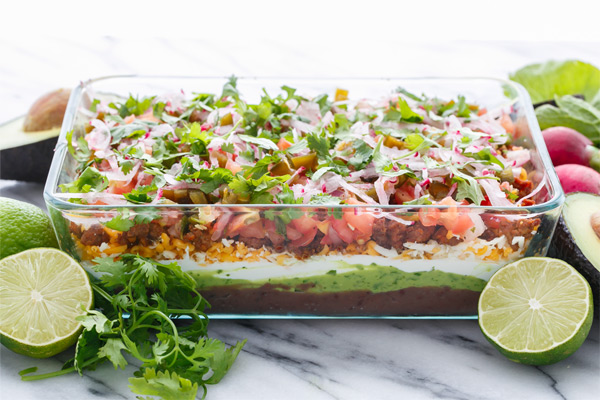 It wouldn't be a proper party without chips and dip! If you think about it, every culture has contributed their own version of chips and dip, from Italian bread and artichoke dip to Middle Eastern hummus and pita.
But Mexico has definitely given us our all-time favorite dips, from black beans to salsa to guacamole to accompany crisp and salty tortilla chips. And this party-friendly recipe combines them all into a single, beautifully layered pan of awesome.
It's most commonly known as 7 Layer Dip, but technically, if you counted each and every ingredient we added here as a layer, you'd end up with nine layers; ten if you counted the two varieties of cheese as separate layers. But 10 Layer Dip just sounds pretentious, so we're going to stick to seven and call it a day—a delicious, dip-filled day.
Have you ever noticed that store-bought shredded cheese is just a little bit weird? It's almost chalky in texture and less than fresh in flavor. That's due to the additives and stabilizers that the cheese gets tossed with to prevent it from clumping in the bag. It's necessary, but not necessarily delicious.
I think we'd all agree that freshly shredded cheese is much better. Unfortunately, it's also time-consuming, especially when you need a lot of it.
Luckily, with the new KitchenAid® Fresh Prep Slicer/Shredder Attachment, you can shred your own fresh cheese quickly and easily. What would easily take 15 minutes to grate by hand (talk about an arm workout), now takes mere seconds with this brilliant new attachment. The Fresh Prep Slicer/Shredder Attachment comes with two different shredding blades, Coarse and Medium, so you can shred to your preference!
And bonus: you can also use it to shred the radish you need for this recipe too! We love adding fresh radish as a garnish to dishes like this one, as it adds a lovely brightness in both color and flavor.
I recommend using a shallow glass dish for this recipe. Use glass so you can see all the pretty layers, and shallow so you can actually scoop up all those layers without having to dunk your hand up to your knuckle. It might be hard to believe, but I've seen more than one recipe for 7 Layer Dip served in deep bowls or glass trifle dishes.
While, sure, it makes for a pretty presentation, to me the best part of this recipe is that perfect scoop: one with a little bit of each ingredient on a single chip—something that's simply impossible with a deeper dish. Trust me on this one, a shallow glass casserole is the perfect vessel for this layered masterpiece.
We assembled a small batch of this dip (about 6-8 servings worth) in a 2-quart casserole, but you can easily double the recipe and make a full 13-by-9-inch pan instead.
Layer 1: refried black beans. You can feel a bit better about gorging yourself on dip when there are healthy black beans in there, right?
Layer 2: zesty cilantro avocado guacamole. We intentionally made this guacamole much brighter and zestier than your usual guacamole; when layered with the other savory flavors in the dip it provides a perfect balance. Whip it up real quick using the KitchenAid® Mini Food Processor!
Layer 3: sour cream. It's not 7 Layer Dip without it (then it'd be 6 layer dip, and that's just not right).
Layer 4: shredded cheddar and cotija cheeses. We like the combination of sharp cheddar and the slightly nutty cotija (plus the pretty contrast of orange and white cheeses), but you can use your favorite cheeses here instead.
Layer 5: spicy chorizo. We cooked down bulk pork chorizo to crisp crumbles. This is one of our 'secret ingredients' to making an ultra-flavorful 7 Layer Dip. If you can't find chorizo, you can also use ground beef with taco seasoning.
Layer 6: zesty pico de gallo. We liked the chunky texture of pico de gallo over smooth salsa. We also drained the pico to prevent the dip from getting too waterlogged. If you use a regular salsa, I'd recommend layering it in between the guacamole and sour cream, but for coarser pico de gallo, we liked the added color of it when sprinkled on top.
Layer 7: garnishes of pickled jalapeño peppers, shredded radishes, and chopped fresh cilantro (or layers seven, eight, and nine if you prefer). The pickled jalapeños are key to this recipe's amazing flavor, providing both sweetness, spice, and all-around intense flavor. Don't skip them!
Voila! A layered masterpiece. Grab your favorite tortilla chips, dig in, and enjoy! Good to know too: this dip will keep tightly covered in the refrigerator for 1-2 days.
How many layers do you dip?
Share your take on this 7 Layer Dip on Instagram using #MadeWithKitchenAid for a chance to be featured.
7 Layer Dip
Yields 6 appetizer servings (double for a party-sized 13″x9″ pan)
INGREDIENTS
1/3 pound fresh pork chorizo
1 tablespoon vegetable oil (optional)
2 ripe avocados, pitted
1/3 cup packed fresh cilantro, plus more for garnish
1 tablespoon lime juice
pinch of salt, to taste
2 ounces cheddar cheese
2 ounces cotija cheese
1 radish
3/4 cup refried black beans
3/4 cup sour cream
3/4 cup pico de gallo, drained if watery
1/4 cup chopped pickled jalapeños
DIRECTIONS
Cook the chorizo in a skillet over medium-high heat until browned and slightly crispy, breaking up the meat into small crumbles. If your chorizo is particularly dry, it may help to add a tablespoon or so of vegetable oil to help it get nice and crisp. Set aside and let cool.
To prepare guacamole, place the avocados in the KitchenAid® Mini Food Processor along with the cilantro, lime juice, and salt. Pulse until smooth and creamy.
Shred the cheeses using the KitchenAid® Fresh Prep Slicer/Shredder Attachment and the coarse shredding blade. Clean out any stray bits of cheese, and then shred the radish using the same blade. Spread the radish out on a paper towel to drain.
To assemble the dip, spread black beans in the bottom of a 2-quart casserole dish (approximately 11″x7"). I recommend using a glass dish so you can see all the pretty layers.
Spread the guacamole on top, followed by the sour cream.
Sprinkle with the shredded cheeses, and then top with cooled chorizo and drained pico de gallo.
Finally, top with the chopped pickled jalapeños, shredded radish, and the additional chopped cilantro for garnish.
The dip can be covered and refrigerated for up to a day before serving. Serve cool or at room temperature.
Print
*The Contributor of this post has been compensated by KitchenAid for this post, but this post represents the Contributor's own opinion.*