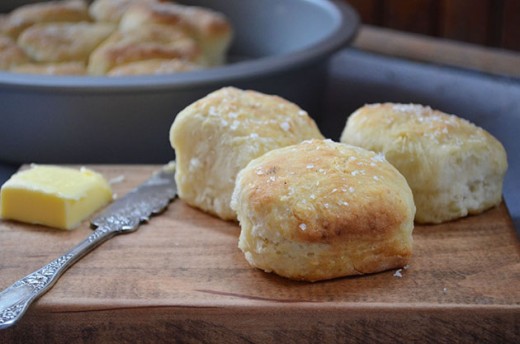 What comes to mind when you think about planning a big meal for family and friends? I bet appetizers, main courses, dessert, and even drinks just popped into your mind. All stars of the meal in their own right, but what about the supporting cast? Sure you can play it safe with a baguette, but I look at the breadbasket as a chance to really shine, and show some creativity.
Some people like crunch, so grissini (thin, Italian breadsticks) are a great choice. Others prefer a more traditional take, making flaky, buttermilk biscuits as the way to go. One of my favorite breadbaskets, at a restaurant in Cape Cod called the Lobster Pot, includes crisp flatbreads, warm, soft sandwich rolls, and a spice-scented pumpkin bread that could easily double as a not-too-sweet dessert. It's a breadbasket that covers all the bases.
Baking your own fresh bread adds that extra touch that makes the holidays, or year-round dinner parties special. The problem for me sometimes comes in the planning required for homemade bread. Yeast takes time, and that's not always an ingredient at my disposal when cooking for a crowd. I started thinking about how I could make bread without the waiting time, and my mind wandered to biscuits. They get their lift from baking powder, not yeast. I wondered if I could create something using a biscuit-making technique, but have the final flavor be more reminiscent of a loaf of bread. The answer is yes, and today I'm excited to share my recipe for an easy, homemade soft dinner roll, ready in 30 minutes from start from to finish.
30-Minute Dinner Rolls
Makes 12 servings
INGREDIENTS
2 1/2 cups (375 grams) all purpose flour, plus more for shaping & cutting
4 1/2 teaspoons (22 grams) baking powder
1 1/2 teaspoons (8 grams) fine sea salt
2 teaspoons (14 grams) granulated natural cane sugar
1 1/2 cups (355 ml) warm water
Olive oil, to brush the top
Fleur de sel, to finish (optional)
DIRECTIONS
Preheat the oven to 450F.
In a deep bowl, combine the flour, baking powder, salt, and sugar. Whisk to blend.
Pour in the water. Stir with a spoon until just mixed, and there are no visible traces of flour. The dough will be very wet, almost like a thick batter.
Generously sprinkle flour on top of a counter or large cutting board. Dump the dough on top. Generously sprinkle flour on top of the dough. Using your fingertips, press lightly to flatten it into a 1/2-inch thick rectangle. Fold one third of the dough in towards the center. Fold the other third on top. You should now have a narrower rectangle with three layers. Sprinkle more flour, if needed, and press back into a 1/2-inch thick rectangle. Repeat the folding technique two more times, ending with the dough pressed into a 1/2-inch thick rectangle.
Dip a 2 1/2-inch round cutter into flour. Cut out circles of dough, and arrange in a KitchenAid® Nonstick 9″x2″ Round Pan (it's okay to re-roll the dough 2 or 3 times). They should fit snugly in the pan, with the edges touching. Brush the tops with a bit of olive oil, and sprinkle with fleur de sel, if using.
Bake for 20 minutes, until the tops are golden. Let cool in the pan for 10 minutes before serving.
Print
*The Contributor of this post has been compensated by KitchenAid for this post, but this post represents the Contributor's own opinion.*