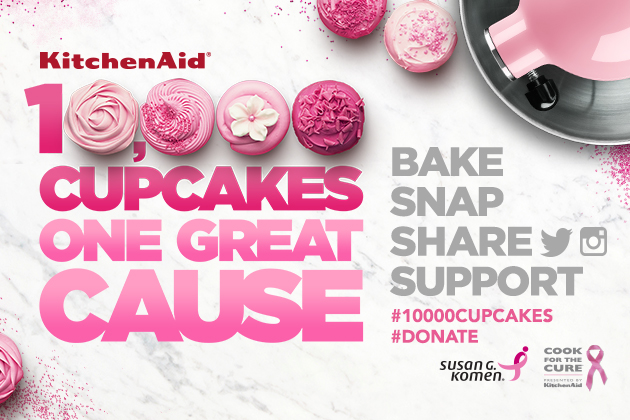 This October, KitchenAid is teaming up with Susan G. Komen for the 10,000 Cupcakes One Great Cause program. For every original cupcake photo that's shared on Twitter and Instagram using the hashtags #10000Cupcakes and #Donate, KitchenAid will donate $1 to Susan G. Komen, up to $10,000.
KitchenAid has partnered with the bloggers below to help support the program. Each blogger has made a pink cupcake recipe using their KitchenAid® Artisan® Design Series Stand Mixer in Raspberry Ice and their Ceramic Bowl.
Pink Striped and Ombre Cupcakes from 1 Fine Cookie
Pink Lemonade Cupcakes from Blahnik Baker
Raspberry Ice Cupcakes from Doughmesstic
Roasted Raspberry Cinnamon Cupcakes from Hip Foodie Mom
Cranberry Orange Cupcakes from Life's Ambrosia
Roasted Berry Cupcakes from Kitchen Confidante
Strawberry Cheesecake Cupcakes from Spoonful of Flavor
Raspberry Pomegranate Swirl Cupcakes from The Café Sucre Farine
Pink Raspberry Buttercream Vanilla Cupcakes from The Little Kitchen
White Chocolate Cupcakes with Cranberry Frosting from Urban Bakes
For more information about 10,000 Cupcakes One Great Cause, visit: http://cookforthecure.kitchenaid.com/10000cupcakes.
*The Contributors of the posts linked to from this post were provided with these products free of charge by KitchenAid, but the posts represent the Contributors' own opinions.*