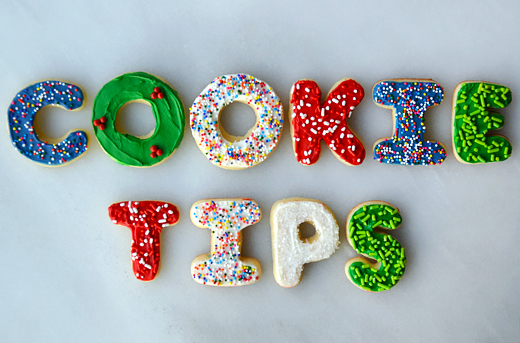 Nothing signals the start to the winter holiday season quite like a platter full of freshly baked cookies, from sugar-dusted crescents and nut-studded biscotti to chocolate-dipped macaroons and sprinkle-topped wafers. But a few simple tips on technique can mean the difference between cookie triumph and cookie tragedy. So preheat your oven and read on for my top 10 tips to guarantee holiday cookie success in your kitchen.
1. Measure Like You Mean It  
It's no secret that baking is a science, which means accuracy is everything. Remember that a majority of recipes that call for eggs and butter refer to large eggs and unsalted butter. And when measuring flour, don't dip the measuring cup into the bag of flour, as it compacts it and causes you to use more flour than the recipe calls for. Instead, stir and spoon the flour into the measuring cup then level it off.
2. Nix the Overmixing
Cookie recipes made with flour can run the risk of being too tough if the dough is overmixed. Stirring the flour activates the gluten, and excessive stirring causes the resulting cookies to be tough in texture and more dense. So turn that KitchenAid® Stand Mixer to "low" and watch for the moment when the dry ingredients are just combined into the wet ingredients to create a lighter dough, and thus less dense cookies.
3. Even Out Your Roll
Cutout cookies are the quintessential holiday cookie. But before you stamp out those snowmen, ensure your dough is evenly rolled out in all areas so your cookies will bake at the same rate and in the same amount of time.
4. Chill Out
A majority of cookie dough recipes — be it drop cookies or sugar cookies — will benefit from being chilled in the refrigerator prior to being shaped and baked. Refrigerating cookie dough has two benefits: It allows any butter in the dough to firm up, which makes the dough easier to work with, and it allows any flour in the dough to absorb excess moisture, which will prevent the cookies from spreading too much while they bake.
5. Double-Check Your Oven Temp
There's nothing worse than devoting your time to make and shape cookies, only to discover after it's too late that your 350°F oven was actually running closer to 400°F. The result? Burned cookies. Make sure to double-check the temperature of your oven using an oven thermometer, or better yet, eliminate the need for an extra thermometer and up your baking game with the KitchenAid® Even-Heat™ True Convection Wall Oven.
6. Keep Your Distance
Every type of cookie will vary in how much it expands while baking, but it's important to space cookies at least 2 inches apart on the baking sheet to account for any spreading. To prevent sugar cookies or cutout cookies from spreading, place the shaped cookies in the fridge prior to baking. A cold cutout cookie will spread less when baked than a room temperature cookie.
7. Count on Carryover Cooking
To ensure your cookies are perfectly baked, remove them from the oven a few minutes prior to them reaching their desired degree of doneness. Cookies will continue baking on the cookie sheet after they're taken out of the oven, so it's important to account for the carryover cooking time.
8. Avoid the (Sugar) Rush
Allow baking sheets to cool completely between batches of cookies. As tempting as it is to speed up the baking process, avoid rushing and never place cookie dough on hot cookie sheets. Doing so causes the cookies to spread too much or to become overbaked.
9. Cool Before Decorating
In addition to allowing the baking sheet to cool between batches, it's just as critical to allow the baked cookies to cool completely before you decorate them. Hot cookies plus buttercream frosting is a recipe for a melted (yet delicious) mess.
10. Pack and Ship Like a Pro
Each type of cookie will vary in how long it stays fresh, but when in doubt, package your fully cooled cookies in an air-tight container, with multiple layers separated by wax paper or parchment paper. When in doubt, seal the cookies in a plastic bag before storing them in a hard container to give them the best chance of arriving at their destination crumb-free.
*The Contributor of this post has been compensated by KitchenAid for this post, but this post represents the Contributor's own opinion.*