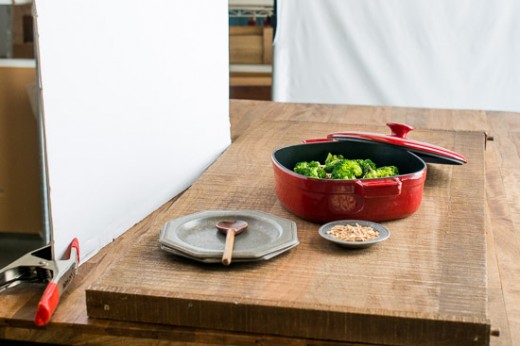 One of the very first and most important concepts that we teach in our food photography workshops is on the subject of natural lighting. If you can understand natural light, identify its source, how to harness it and how to work with it, then that's half the challenge of food photography. Not only is lighting crucial to control, it's the bread-and-butter of so many beautiful images, regardless of how simple or extensive they are food styled or prop-styled.
Here are 10 easy natural lighting tips for basic food photography: 
1. Finding your Light: Just because you cook and eat in your kitchen or dining room doesn't mean you have to photograph in those rooms. Some kitchens (especially small apartment ones) don't have very much natural light, so you're going to have to find your light. Look around your house during different times of the day and see where the natural light is the softest and most diffused. If your bedroom or living room has a great window with a bank of beautiful light then photograph in those rooms!
2. Best light during the day: Once you've found the best window (or even garage door) light to photograph in, find out when the best time of day is that gives you that light. Sometimes if you're wanting to photograph your dinner, but the light isn't the best during the evening and it's better during the day, then work around that light. Maybe save some of that dish to photograph it on the weekend or cook it when you have the best light.
3. Diffuse your light: If your light is too bright, your can soften the light by hanging a sheer white curtain or diffuser.
4. Don't fear shadows: Shadows add contract and texture to an image. The bottom, left shadow on the KitchenAid® Streamline Cast Iron 6-Quart Casserole dish adds an interesting dimension and texture to the image.
Here's the set up: No reflector was used to add light to the shadowed side.
5. Add light with white foam core board: White foam core board is one of the most valuable and inexpensive investments you can make to your food photography collection. By using the white foam core board, you can reflect more light into the subject. So if you don't like the shadow in the previous image, you can now fill in that space with light.
Here's the set up: a white foam core board was used to reflect more light onto the subject
6. Block light with black foam core board: Black foam core board is wonderful to use as a way to block light, especially if you're a fan of the dark and moody-style images. By using black foam core boards, you can block light and darken the scene easily and inexpensively.
Here's the set up: two black foam core boards were used to block light and control only a specific amount onto the subject
7. Shoot different ways: Now that you have your different foam core boards, practice with different styles to see what you like the best.
Here it is again, all 3 images shot with different amounts of light on the subject:
8. Another way to reflect light onto a specific area on your subject is by cutting out a smaller piece of the foam core board and wrapping it with aluminum foil. The foil will reflect much more light easily in harder to light spots.
9. Using a small mirror is also another way to reflect light into smaller and darker areas.
10. Clamps are very useful to hold your foam core boards up straight. Your local hardware store is probably going to give you the best prices for clamps and in very different  sizes for all your different size foam core boards.
Learning how to use natural light for your food photographs is something that can take a long time to learn and regardless of how long you've been photographing in natural light, there will always be subjects and days that can prove challenging even for the seasoned photographer. Just remember to stay focused and keep practicing again and again and again. And always remember to have fun!
*The Contributor of this post has been compensated by KitchenAid for this post, but this post represents the Contributor's own opinion.*